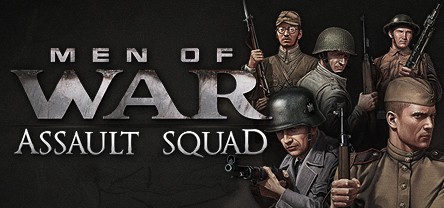 Game Overview
Men of War: Assault Squad is the new title in the "Men of War" series. Assault Squad takes place across the globe during the height of World War II and features a completely new cooperative skirmish game mode with access to five different nations (Russia, Germany, USA, Commonwealth and Japan) as well as increased realism and accessibility. The expansion pack will deliver fans and newcomers an intense new WW2 spectacle with almost limitless replayability.
Like previous games in the series, Men of War: Assault Squad includes the unique "direct control" feature which enables players to maneuver units using the directional keys, rather than pointing and clicking. PC Generals can get behind the controls of a tank to smash through obstacles, crush soldiers under its tracks and fire armor-piercing shells at enemy emplacements, or take control of individual soldiers as they fight.
Skirmish - Dynamic Coop with your friends or IHS mates
The main draw for Assault Squad will be the addition of Skirmish mode to the series. Skirmish in AS is not just random bots vs X players on the same multiplayer maps that everyone knows. In the retail game each faction will have 3 exclusive maps that are filled with strategic points to capture over extremely diversified landscapes. These points provide new units and resources players can use. Also of great importance is that players share their budget and spend it together to buy new troops.
The higher the difficulty set the less resources players have right from the start and the more the AI will vary its forces. That means, new players may start off with easy, once they improved their skills and are up for the next challenge, they will try skirmish on normal, now the AI will use different type of units and more powerful ones, the same will happen when changing from normal to hard, those people who are up for the ultimate challenge play heroic and face a furious AI throwing the best of the best at you. So in each difficulty mode you will see different equipment used by the enemy, increasing the longevity of the game mode a lot.
With the latest open beta patch, Assault Squad has upped the playable player count for Skirmish to 8. The more players you can pull together for a game the less units you will likely need to micromanage. Given that I certainly suggest those new to the series try to get a sizable group together. If you need help finding participants for giving coop a try don't forget TG has a Men of War forum and a steam group.
A Tactical RTS for the Tactical Gamer
The Men of War series is a tough series to get into and my success rate in converting new players to the game has unfortunately been low. On first glance the level of micro management needed can seem too daunting a task. Give yourself time to learn the gameplay mechanics however and you will find a very rich gameplay experience that may sour your interest in other titles within the RTS genre. The amount of depth and detail in the gameplay is staggering and what will win you battles in Assault Squad is the real life tactics and strategy you employ.
To steal terminology from another game, the beauty of the dynamic gameplay comes out in those battlefield moments you will. On the large scale maybe you pulled off a stunning maneuver on your opponent(s) or held off a massive German Blitzkrieg. Other moments can be smaller where something hilariously unpredictable happens or have you on the edge of your seat with exhilaration as one soldier controlled by you cheats death and accomplishes a heroic feat.
Like a lot of top notch multiplayer games Assault Squad pulsates throughout with a healthy dose of stress. The game forces you to make meaningful decisions in quick fashion and accordingly you will become immersed in the little virtual lives of the soldiers under your command.
Open Beta Details
Sign up Link: http://www.digitalmindsoft.eu/games/...open-beta.html
Cost: Free
Development Progress: Four beta patches and counting...
Playable beta content:
* 3 Full Armies(GER,USA,Commonwealth)
* 3 Skirmish maps
* 9 Battlezone/Combat maps
* 3 Frontline Maps
Minimum system requirements:
* Windows 2000/XP
* 2.6GHz Processor
* 1GB RAM
* GeForce 6200/Radeon 9600 Videocard or higher
* DirectX 9.0c
* compatible sound card
* 4GB free HDD space
* DVD-ROM