I need to offload some memory that I am not using. It is 4 gig (4 X 1gb sticks) of Corsair XMS2 6400C4PRO. It cost me a fortune when I bought it a couple months ago, but just simply do not need it anymore. It is sweet memory with all the cool LEDs and it runs real smooth for gaming.
Memory Size: 4 x 1024MB
Memory Speed: 800MHz PC6400
Memory CAS Latency: 4-4-4-12
Memory Type: Dual Channel DDR2
Pins: 240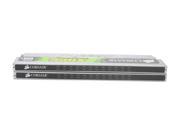 I am looking to get around $200 (shipping included) for all 4.