So, with a hefty tax return on the way, I decided to get a little thank you gift for my wife for all her hard work and

[hotsex]

dedication: :D JK, honey. Hey, don't throw that--Ow!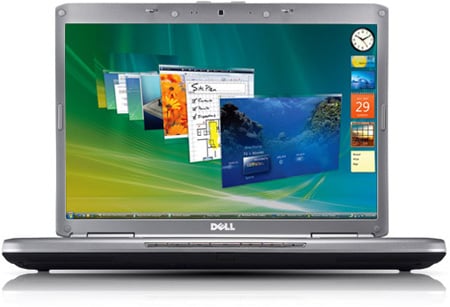 17" refurb'd Inspiron 1720 on eBay for $600--dual core Intel 1.5 GHz, 1G RAM (I'll need to buy another), Wi-Fi and Bluetooth cards, DVD burner, larger 9-cell battery and various odds n' ends.

I realized she needed a little more than a laptop dumped on her so I went the extra mile and got the "sold out" matching wireless mouse for only 22.00 after looking for a while.
Finally, I realized to really get heads turning, she needs a chic way to carry it from her office to the local "college cutie cafe" for a lo-fat latte and some wi-fi whimsy. :row__593: So, after consulting the fashionista weblogs and searching for a cumulative 5hours over two days, (this is how love works, guys--take notes) I finally found the one she would want: at Staples online, of all places--they got it in first!
:row__572:
I'm going to unpack them (never, EVER give your girl a present still in it's UPS box), put them in a nice matching stack of three gift boxes all done up in a big pink ribbon, and give it to her next week when it should all have arrived.

I'll try to get pictures when she opens it, but not what happens after that. :D

And what am I going to be getting myself you may ask? Why, renewed Supporting Membership, of course!

Is there any doubt that The Mack is back?