The cookout/summer party season is upon us. Put the kids to bed, light the fire, and enjoy good conversation and laughs with friends. Beer is good, but uninspiring. Nothing beats a pitcher of summery goodness, so let's see what you've got! The rules are simple:
It must contain alcohol
Post ingredients, instructions, and variations (if any)
Recipe doesn't have to be yours - post whatever you find that tastes good
Must not contain MEAT.
My Official Drink of 2008 was something I dubbed a "raw margarita":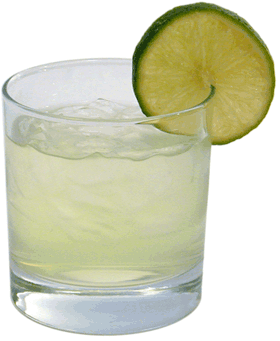 Code:
Ingredients (makes 8 drinks)
- 2 cups Tequilla (MUST be "100% Agave" - silver is the best variety)
- 1 cup Cointreau
- 1 cup water
- 1 cup simple syrup* made with raw cane sugar
- juice from 8 large limes

Directions
- Combine all ingredients in a pitcher and stir.  

Serving
- Fill serving-glass with ice.
- Pour ice into shaker.
- Pour margarita into shaker until it almost covers ice.
- Shake vigorously and pour back into glass




* simple syrup is made by melting sugar and water together in a 2:1 ratio.  To make 1 cup syrup, combine 1 cup syrup + 1/2 cup water.