Hey guys, I'm building a guitar effects pedal and the 1/4" jacks are confusing me. I don't understand how the things on the symbol correspond to the part. Here's a picture of the symbols:

Here's a
link
to the whole circuit(can't post the image on other sites, by artists request)
I took some pictures of the part I have(they focused differently for some reason):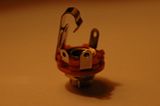 I really just don't get where the rest of the components need to contact the jack. Any help?