Hey guys, I'm sick and tired of the sh1tty interface on my home theater. It's a Samsung HTC-5500 Blu-Ray player that has a rudimentary OS capable of streaming youtube, pandora, netflix, etc, as well as playing video files off my network. It's ok, but the interface is really quirky, and about half of the movies I stream off my network fail halfway through. The kicker is that it can't rewind or fast forward networked video. So once the stream fails, you have to start the whole damn thing over. Because if this, we usually end up watching the end of every movie on the laptop instead of the 47" LG on the wall with 5.1 surround. It sucks, so I'm going to do something about it. I've put together a build list for an HTPC. I'll be using it as my HTPC, as well as a server for backups and access to my data when I'm on the road. Here's what I've got:
Case: Silverstone SG06-B
The case has to fit onto a little shelf that's under 14.5" wide. Most of the HTPC cases are 440mm, or about 17" wide. Of the ones that will fit, this is one of the few that seemed like it didn't have a total POS for a power supply. Also, it has a nice big 120mm fan to quietly keep things cool. $120.
Mobo: ASUS M4A88T-I Mini ITX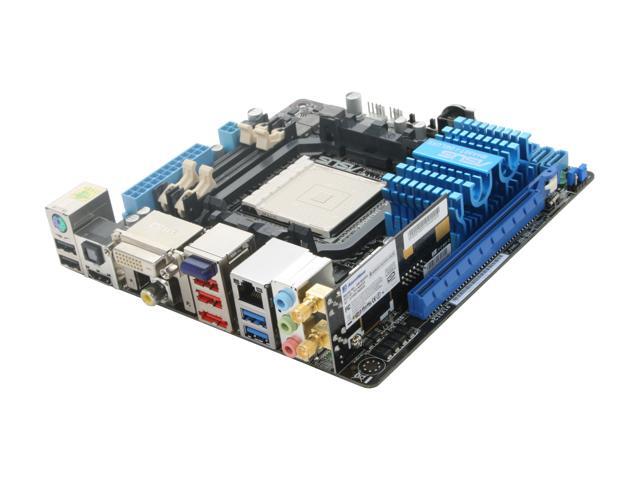 This was the only Mini-ITX motherboard I could find that has a PCIe x16 slot for a standalone GPU. It does have onboard graphics with an HDMI out, but I'm worried about the chipset being able to decode 1080p MKVs smoothly. As a bonus, it's got an on-board RAID controller, and a CPU core unlocker. $125.
CPU: AMD Sempron 140 2.7 GHz Single Core
The Sempron is an Athlon II x2 with one of the cores locked. The ASUS mobo I selected has a BIOS switch that unlocks the second core, turning a $40 processor into a $70 processor. Sweet. $38.
Memory: Crucial 2GB 204-Pin SO-DIMM DDR3 1333
It's laptop memory. Whatever. $25.
GPU: Gigabyte Radeon HD 5450 Low Profile
I selected the 5450 for its low TDP (16 watts), low profile, and low price. I picked the gigabyte because it has a fan, and newegg reviews all complained about the 5450's getting hot in small cases. Its sole purpose in life will be to decode video files; I have a gaming machine for the heavy lifting. Apparently this card can run in hybrid SLI with the onboard HD4250. Bonus. $44. (Only $34 if I can threaten them into sending the rebate check)
Storage: Samsung F2 1TB 5400rpm 3.5" Sata II HDD
Samsung MT2 1TB 5400rpm 2.5" Sata II HDD
The case has room for one 3.5" drive and one 2.5" drive. As I mentioned earlier, the mobo has an onboard RAID controller, so I'm planning on using these in a RAID 1 array for redundancy. We'll see how that goes - I've never played around with RAID. $60 + $100 = $160.
OS & Software: I have a copy of Win 7 Ultimate x64 to put on it. I've been reading about XBMC, it looks like a pretty slick open-source media center solution. $0.
So that's pretty much everything. Ends up a shade over $500 on newegg. No optical drive right now, as I have the Blu-Ray player in the receiver. I'll make a bootable thumb drive to install Windows, and borrow a keyboard & mouse to get everything set up. After that I was thinking about using the Logitech Touch app on my phone as a mouse and keyboard. We'll see.
So what do you think? Any recommendations to make my life a little more awesome?