Bruised but not broken, AMD fires off another volley of price cuts across Core 2 Duo's bow
With only a month until the most anticipated AMD product launch in five years, the company is pulling out all the stops to get competitive before the Back to School buying season.
The AMD-Intel price war, now almost into its second year, was cited as one of the contributing factors to the $611 million dollar loss AMD posted in the fiscal first quarter of 2007. Following that loss came a 400 employee headcount reduction and a $2.2 billion cash-for-stock deal.
Almost immediately after posting its Q1 loss, Mercury research declared that Intel managed to recapture all of AMD's marketshare gains from 2006 in the first three months of 2007. JP Morgan directly attributed the Intel traction due to aggressive pricing.
Effective Monday, July 9, 2007, AMD will enforce the following pricing among its channel: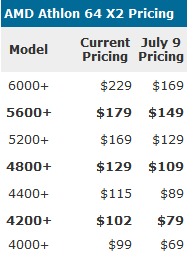 With these new prices cuts, AMD will also significantly trim its retail CPU portfolio. All single-core Athlon and Sempron models currently in the channel will officially reach end-of-life status (EOL). The ultra-low cost Athlon 64 3500+, Athlon 64 3200+, Sempron 3500+ and Sempron 3200+ will continue to exist in high growth markets: Brazil, Russia, India and China.
AMD roadmaps confirmed that other low-cost single-core processor families like Lima have already been phased out, just three months after launch. The company is still slated to introduce its 65nm Sparta family, based on the K8 architecture, in September 2007.
The company's next-generation architecture, occasionally dubbed K10, will officially launch the last week of August for server platforms, and sometime late in the holiday season for desktops. AMD has not issued pricing notifications on these processors yet.
AMD fired the first volley at the Intel price war when the company dramatically slashed processor prices -- just days before the Intel Core 2 Duo launch. Since then, both companies reduced pricing of last year's products to less than 33% of last year's street price.
Memos released to DailyTech from AMD distributors confirm that the July 9 AMD price cuts are directly aimed at pre-empting the July 22 Intel price cuts. These upcoming Intel price cuts will cut current Intel quad-core almost in half.
http://www.dailytech.com/article.aspx?newsid=7960