I've got the phalanges overlapped that the Oct.30th release date is true!
(
link
)
Originally posted by ChocoTaco369
Since the new Motorola Sholes/Tao/Droid/Whatever (I'll refer to the phone as the S/T/D from here on out) Pre-Release thread is getting far too long – so long that it's almost impossible for a newcomer to gather any relevant information out of it – I've taken others' suggestions and tried my best to consolidate the most pertinent information into a new thread. Hopefully, if the mods find my work acceptable, they'll close that thread and start anew here with all the new information in the first post. Since this just may be the longest thread in HoFo history…lol…here goes nothing!
First off, this phone is slated to become Verizon's first Android phone. It will be a 'Google Experience' device. What does that mean? That means Verizon signed a contract with Google that they cannot screw with the phone – they can't remove stock apps and they can't clutter the phone up with their junk proprietary software. That means we should be getting a completely functional phone – open Bluetooth, app store, all Google applications INCLUDING GOOGLE VOICE (as the word on the street says GV will be on there), unlocked and fully functional GPS…this will all be there by contract requirement – VERIZON IS NOT GOING TO DUMB DOWN THIS PHONE. IT WILL NOT BE CRIPPLED. VERIZON DOES NOT CRIPPLE SMARTPHONES AND EVEN IF THEY DID, THEY WOULDN'T BE ABLE TO BECAUSE OF GOOGLE'S CONTRACT!!
There. Now that we've gotten that out of the way, let's move onto the technical specs :D
Form Factor:
This device will be a QWERTY slider. The dimensions are RUMORED to be as follows:
• Dimensions 115.80 x 60.00 x 13.70 mm
• Weight 169 g
Now, just what does that mean? Well, the original RAZR was 14mm in diameter. So, not only is this phone rumored to be the slimmest QWERTY slider on the market, it's even slimmer than the original RAZR V3/V3c/V3i/Ect. 169 g translates to 5.96 oz. As a point of reference, the iPhone 3Gs is 116 x 62 x 12.3 mm and 4.76 oz (139g). This means that this Motorola QWERTY slider will be barely thicker than a keyboardless iPhone. Why the extra weight? Well, ladies and gentlemen, this phone will be made out of METAL, not cheap plastic like most other phones. It is also rumored to have a GLASS screen as that is Motorola's calling card, and yes, ladies and gentlemen, it WILL be a
CAPACITIVE
screen with
MULTI-TOUCH
, and rumor is, it's extremely accurate.
Now that we have the form factor covered, let's get into the –
Operating System
Yes, ladies and gents, we already know this will be VZW's first Android device, but exactly what version is it going to run? This has been confirmed by an extremely reliable source – in my opinion, the best source out there on HoFo from what I've seen – it WILL run version 2.0 Eclair. Some of you may say, "That's impossible! Eclair isn't ready and won't be available until Q2 2010 from recent reports!"
Well, that's probably true – for a wide, public release. However, this is a huge release for both Verizon, Google and Motorola. This is VZW's first Android device, Google's first shot at a multimedia phone (let's face it, Android 1.x is pretty boring and the phones are pretty uninspired hardware-wise) to compete with the iPhone and the phone that may make or break Motorola's existence as a mobile phone manufacturer. This is a HUGE release all around. What does this mean? This means that this phone WILL have Eclair 2.0 and will likely be the ONLY Android handset for the next 4-7 months running it before it is fully released to the public. There will be no Eclair available to anyone except those with this phone. That's the most likely scenario here.
Powerplant
But what good is all this if the phone is a slouch? Slow interface? Choppy gameplay? Not another 528MHz processor, say it isn't so! Well, this is the RUMORED engine powering this phone:
• OMAP3430 – 600 MHz ARM Cortex A8 + PowerVR SGX 530 GPU + 430MHz C64x+ DSP + ISP (Image Signal Processor)
Now, you may be saying to yourself, "Aww man, 600MHz? That's only 72MHz faster than that stupid 528MHz chip killing the Android device market now! Why can't they release something with Snapdragon? Blah blah blah Snapdragon. Snapdragon, Snapdragon, Snapdragon!"
Well, this isn't some processor with integrated graphics. What this phone is running is a separate CPU AND GPU. Think of it like a motherboard with onboard memory vs. a processor/graphics card combination. The processor/graphics card combination almost always blows away the processor with integrated graphics unless you're buying the worst crap on the market. There is a real possibility that this combination will outpower Snapdragon for graphical applications. It has been stated that this device will be more powerful than the PSP, and if this phone can outperform a real-world gaming device, those goofy little games that you find in the app stores should be no problem at all for the phone, let alone having enough power to power the OS. I believe that this phone will be lightning fast. I just hope the RUMORED 1390mAh battery will be enough to power this baby all day and night :)
Release Date
But when is this bad boy coming to market? The truth is, no one knows. It hasn't even been announced by Verizon or Google. There are two rumored release dates: October 30th and December 1st. I personally believe December 1st is highly unlikely. Why? Because the previously aforementioned developer whose word-of-mouth is gold as far as I'm concerned told us so. I'm personally leaning toward October 30th, but only time will tell. All I know for sure is asking over and over when the release date will be will solve nothing :)
The October 30th release date comes from this calendar:
AndroidandMe article claiming all sorts of information about the S/T/D (I personally take it with a grain of salt as it claims a December 1st release date which I DO NOT believe due to our resident developer with a spotless record):
[media]http://androidandme.com/wp-content/uploads/2009/10/motoleak.png[/media]
List of Rumored Specifications
• OMAP3430 – 600 MHz ARM Cortex A8 + PowerVR SGX 530 GPU + 430MHz C64x+ DSP + ISP (Image Signal Processor)
• Dimensions 60.00 x 115.80 x 13.70 mm
• Weight 169 g
• Battery Li-ion 1400 mAh.
• Standby 450 hours, talk time 420 minutes
• 3.7-inch touch-sensitive display with a resolution of 854×480 pixels, 16 million color depth. Physical screen size is 45.72 mm by 81.34 mm.
• 512MB/256MB ROM/RAM
• microSD / microSDHC expansion slot
• Camera: 5.0 megapixel with autofocus and video recorder
• Connectivity: USB2.0, 3.5mm audio jack, Bluetooth 2.0 + EDR, Wi-Fi
• Supported audio formats: AMR-NB/WB, MP3, PCM / WAV, AAC, AAC +, eAAC +, WMA
• Supported video formats: MPEG-4, H.263, H.264, WMV
• GPS navigation
• Package Contents: Phone Motorola Sholes, battery, charger, USB cable, 8GB MicroSD memory card and other literature.
Again, none of these specs are confirmed. In fact, the 1400 mAh battery spec is likely wrong as we've been told it is actually 1390 mAh. This device has also been rumored to come with 16GB internal storage, though that is also unconfirmed. The 5.0MP autofocus camera is said to be very good.
And finally, the juiciest part:
Pictures
Original S/T/D RENDER from Russia:
This picture depicts an OLD PROTOTYPE of this phone. This is not what the phone currently looks like at all, but was one of the first (if not THE first) actual device pictures leaked:
These pictures are the first device-on pictures leaked. These pictures are NOT RUNNING ECLAIR 2.0! This is just Android 1.5/1.6. This is not what the final software will look like. It is also important to note that this is also an older prototype and is not what the phone looks like exactly as of now, though it is closer than the one posted above: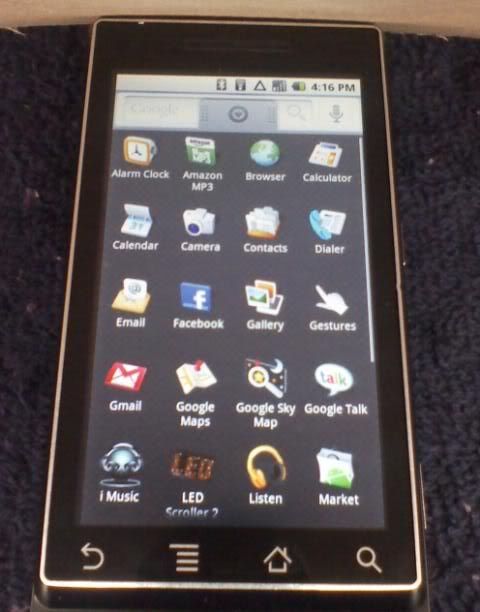 These next pictures are the S/T/D pictures taken from the Verizon/Google conference a few days ago. As of now, these pictures depict the S/T/D's most recent hardware known – that does NOT mean this is the final hardware, it's just more recent than what I've posted thus far.
The thickness (or THINNESS :) ) of the S/T/D pictured on the right (the device on the left is rumored to be a version of the HTC Hero coming to VZW in November or December):
S/T/D on right, Hero on left:
Closeup of the S/T/D (again, this is NOT running Eclair 2.0 but instead 1.5/1.6):
Rumored Battery Cover:
And finally, the OLD Pre-Release thread as a reference if anyone wants to dig through it and hunt for anything I've missed:
http://www.howardforums.com/showthre...page=152&pp=15
FINAL NOTE: The software of this phone is changing DAILY as it is updated and bugs are fixed. Even if you could get a picture of the software today, it would be different in some way tomorrow.
Alright, boys and girls, that's all I can think of off the top of my head. Besides, I've been doing this for an hour and I'm tired :p I hope you all find this 'consolidation' (and I put that in quotes because it's still pretty darn long, sorry) to be satisfactory. If anyone has any other information I forgot, let me know and I'll edit my post. You should probably PM me the info so this thread doesn't get polluted with crap to avoid what happened to the last thread. Also, if any of my information is wrong, feel free to PM me on that, too. I'll try to keep this information updated as time goes on.