Anyone ever heard of these little Tablets that Samsung released called the Q1. Well, my dad works in the tech support are at Moen (the faucet company), and the company tried to give these things to the people in accounting and traveling sector the project flopped and they are left with several of these 700$ tablets. Well my dad is a friend of the people in logistics and managed to get them to give him one of these, plus a keyboard and disk drive, for free.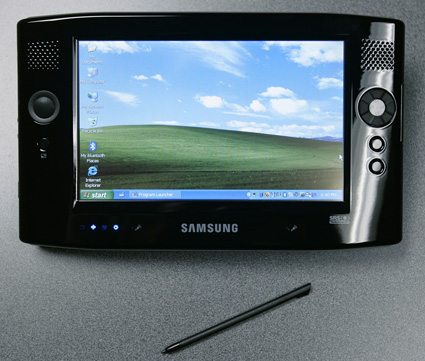 If you ever get a chance to have one of these for less than half of the marketed cost ( 600-700$) i suggest buying it with XP installed. Otherwise, STAY AWAY. I have a keyboard for this thing but typing sing either a stylus or the touchpad keyboard on this thing is a humongous pain in the rear. The screen is tiny at 800*480 but it can scale up to 1024*600. The touchpad capabilities are fairly accurate after spending several minutes calibrating the thing, further tess are need to see if it will stay that way or become inaccurate quickly.
This tablet has 2 usb ports, in which one will probably be forever occupied by a keyboard, as well as an audio jack and a Compact flash slot on the top (any ideas on what i should fill that with?) It also has a Video Out for projectors/larger screens, as well as a ethernet plug. The internal batter lasts on an hour, although i have an external battery that can let it last 8-9 hours.
http://www.google.com/products/catal...wAQ&os=reviews
I'll post more news as i mess with this thing. Ill see if i can't get Starcraft to run on this thing, always wondered how an RTS would work on a touch screen. I'm glad i no longer have the need to buy a laptop.