Operation Venomous Strike
Mission:
Destroy one (1) SCUD missle.
Locate Viktor Reganda and secure his intel.
Background:
Five years. That is how long we have been at this. Opfor decided to raid Chenarus for its local resources. Opfor moved in quick, butchering any local population that attempted to stand in its way. Blufor forces responded by deploying forces to protect the indigenous and drive out the Opfor. Opfor had the upper hand, for awhile.
Opfor have been on the run now for over 2 years. We have slowly closed them off from this region. Every inch of ground was fought for. The turning point was about 6 months ago when we finally took the largest airfield in the area. We took away their ability to maintain a high volume of air operations. Now, we dominate most of the air.
Opfor has been pushed into a corner. They have been reduced to holding Zelenogorsk and its southern region. They have moved light Anti-Air ZU-23 stations. We do not have locations on where they are. We have been holding them there for the past 2 months without issue. We thought we had everything contained. But when you push someone into a corner, they get desperate.
Opfor have moved into position a piece that will take this to another level. They brought an old cold war era SCUD missile launcher to launch chemical weapons into the northern region. This we can not allow. We are going in as a preemptive strike to disable that capability. Our first objective is to locate and destroy their SCUD missile somewhere hidden within Zelenogorsk.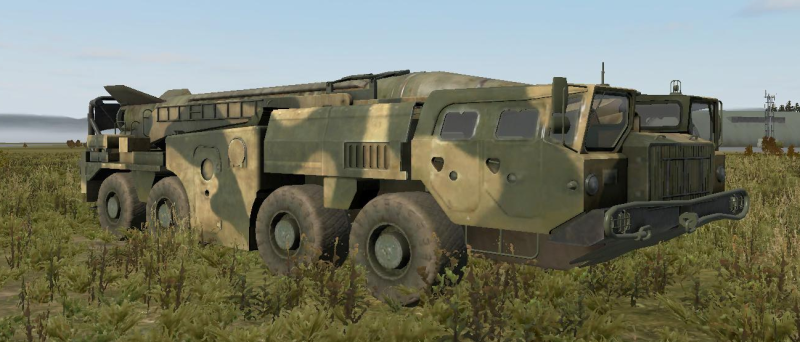 Second and Third Company have already started their push southward from the eastern flank. We will attack from directly above them. We have the green light from upper command to utilize air and ground assets of our choosing. We are looking at a good assortment of jets and decent armour to assist ground forces.
When the SCUD was moved, it did not possess the ability to directly arm the SCUD with chemical weapons, however they sourced a scientist to do just that. He performed the conversions and armed the SCUD himself. Intel got a good shot of him, and a name, Viktor Reganda.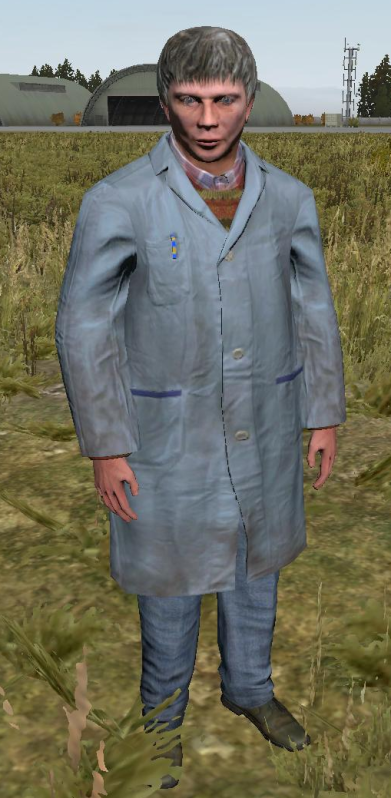 Viktor contacted us 4 days ago, and communications opened up. It appears Opfor have been holding his family hostage to get him to arm the missile. He said if we freed his family, we would defect and get us anything he could. We did just that. Special Forces went in, grabbed his wife and two children, and they are now safe aboard a Blufor aircraft carrier. Viktor tried to run 2 nights ago and fled north from Zelenogorsk. We have not heard from him since. It is believed that Opfor tracked him north to Myshkino and trapped him there. It appears they are actively searching the town and looking for him. He grabbed a 343 radio and managed to broadcast one report. Our scanners picked up his transmission. The report we got from him is that he was not able to grab his laptop before fleeing and he may be wounded.
Our second objective is you find Viktor, and take him to his laptop where ever he left in within Zelenogorsk. Provide treatment if needed, and keep him alive. We currently do not know what channel he is on now.
Intel paints a nasty picture for us. Opfor has many foot patrols along with motorized patrols around Zeleongorsk. The green line is our current front line, expect hostile contact when you cross it. Opfor also has air patrols in both fixed and rotary wing form. It is recommended that you have a pilot maintain air superiority for Close Air Support (CAS) runs. We have lined up a few Bradleys and Avengers for ground support. We have gotten approval for up to 3 pilots, who will have access to CH-47Fs, F35s, AV-8Bs, and A-10s.
Intel points to stay clear of the marked mine zone for ground forces. Reports of buried bouncing betties lie in wait. Also, air units should steer clear from their airfield, as recon shows a high concentration of Anti-Air stations in both gun and guided missile systems.
Gentlemen, Lock and load!
Callsigns:
Infantry:
Saber Company
1st Platoon, 1st Squad - Saber 1-1
1st Platoon, 2nd Squad - Saber 1-2
1st Platoon, 3rd Squad - Saber 1-3
1st Platoon, Lt. - Saber 1-6
1st Platoon, RTO - Saber 1-7
1st Platoon, Field Medic - Saber 1-8
2nd Platoon, 1st Squad - Saber 2-1
2nd Platoon, 2nd Squad - Saber 2-2
2nd Platoon, 3rd Squad - Saber 2-3
2nd Platoon, Lt. - Saber 2-6
2nd Platoon, RTO - Saber 2-7
2nd Platoon, Field Medic - Saber 2-8
Recon Group – Recce
Air:
Pilot 1 - Reaper 1
Pilot 2 - Reaper 2
Pilot 3 - Reaper 3
Armour
1st Group - Steele 1
2nd Group - Steele 2
3rd Group - Steele 3
Medical
MASH Unit – Liberty
Command:
Commanding Officer - Saber 6
Executive Officer - Saber 7
Infantry Commander - Ground
Armour Commander - Wheels
Air Commander - Wind
RTO - Saber 8
JTAC - Ballistic
Short Range Freqs
Saber 1-1 - 343 Channel 1
Saber 1-2 - 343 Channel 2
Saber 1-3 - 343 Channel 3
Saber 2-1 - 343 Channel 4
Saber 2-2 - 343 Channel 5
Saber 2-3 - 343 Channel 6
Recce - 343 Channel 7
Reaper - 343 Channel 8
Steele - 343 Channel 9
Liberty - 343 Channel 10
Command - 343 Channel 11
Long Range Freqs:
1st Platoon Net - 117 Channel 1
2nd Platoon Net - 117 Channel 2
Armour Net - 117 Channel 3
Air Net - 117 Channel 4
MASH Net - 117 Channel 5
Command Net - 117 Channel 6
Vehicle Support:
1x Stryker MEV
3x Humvee Avenger
3x Bradley M2A3
3x CH-47F
2x F-35B Lightning II
2x A-10 (CBU and GBU)
2x Av-8B (GBU and Harrier II)
2x Vehicle Service Group