Some of you may have seen my post regarding Tactical Battlefield in the General Forums. I thought I'd share some more information here so you know a bit more about this awesome TvT modification. We are looking to host a TacBF TvT event near the end of this month....date is being finalized at the time of this post....more to follow! Get ready!
From the TacBF BIS page: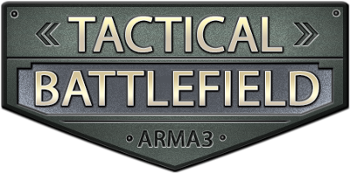 What is Tactical Battlefield?
Tactical Battlefield is a set of TvT game modes, each of which allows you to engage in combat in a particular scenario using a standardised gameplay environment and rules. It introduces new gameplay features to further enhance Arma 3.
Features:
Missions - an assortment of missions for the various game modes (ready to play upon release)
Role System - Squad Leader, Medic, Engineer, Light Anti-Tank, Heavy Anti-Tank, Marksman, Sniper, Crewman, Pilot etc. Choose from pre-configured loadouts then modify to suit within the bounds of that role, providing essential support for your squad.
Squad Management - Join or create a squad and recruit your friends. Designate fire teams and leaders. Provide squad call signs.
Commander Management - Command and coordinate multiple squads and make strategic decisions for the entire force through the unique Commander User Interface.
Advanced Medic System - Medic UI includes diagnoses, CPR, EPI Pens, morphine and bandages.
Logistics System - transporting and managing multiple assets/personnel and provide logistic support to forces via a cargo system.
Vehicle Maintenance System - Rearm, repair and refuel ground and air assets.
Game Modes:
Advance and Secure (A&S)
Attack and Defend (A&D)
Search and Destroy (S&D)
And multiple other game modes that are under development.
Past Development:
Tactical Battlefield has been an accumulation of 7 years of development of a PvP mod on the Arma engine. It started with Coolbox[SBS] and [RGG]Wormeaten developing a mission-based A&S system for ARMA. They then moved this over to ARMA 2 as AASX (or AAS extended). AASX was then combined with another PvP mod called Devastation by Dr Eyeball and it came to be known as Project Reality ARMA 2 (PR:A2). The Arma 3 version of this mod is now being further developed by Dr Eyeball and Wormeaten (along with 3rd party contributions) and will be known as Tactical Battlefield for Arma 3 (TB:A3) (a.k.a. TacBF).