Pandora - The Insurgency
currently running on
Server Two
at TacticalGamer.com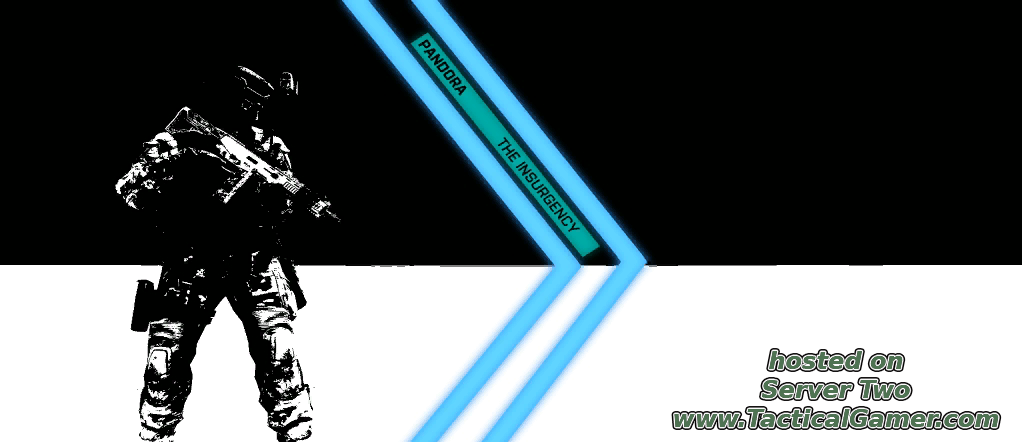 Yesterday we tweaked the settings and it should be running stable now and persistent for a while. Jump in and enjoy an ArmA Classic. This is a perfect server to learn how to use all the controls within Arma 3. It's time to give it another go!
IP: 208.43.76.154
Port: 2363
Password: none
Mods requred: none
Edit: A message from your friendly neighbourhood Game Officer

I wanted to add a few notes about why we felt that this particular set up would benefit us here at TG. The intent is to make a server that has small groups that can jump in and learn the game. This is intended to be very public and very forgiving for those who are new to playing Arma.

This is different than say Server One where we can run larger command structures and so forth. If we have new players that want to create a group and go at their own pace that is fine. We only request that the leaders join TS so we can have the TG community support their chain of command.

This is not to say that we will have no overall commander but just that we shall strive to accommodate different approaches. We should at no point be having players forced to be sitting in the back of a vehicle for a half hour waiting for all the T's to be crossed and I's dotted. Hey, if you want to do that then go ahead. But if someone wants to break from that, start a new group and is in TS then there is no issue.

I hope we don't have to go down the road of creating more rules to this. I think we can all understand what the purpose and intent is here and we have more than capable leadership here that will make it so.

One last note about leadership positions requiring TS attendance. The purpose of this is to ensure TG quality and because the mission does take some coordination due to the enemy populating scripts. When a town doesn't populate with enemies....we have learned that there are active grids that must be cleared first. This just means that leadership must use resources and choose targets accordingly. If there is a new player on the server who is doing a great job of leading a team and is working with the existing leadership to provide a great experience then they should encouraged to join the TS.

The whole point is more openness, more encouragement, more exploring. Alternatively, the more complex organizations and thus wait times for organization is the realm of Server One.

Thanks all.