Operation Seagull - 2030Z / 1530 EST
A long-term mission that will go on for months with constant control over regions of Altis between all Factions. A mission completely decided by player choices of where to go and what tasks to do with a cruel Zeus stopping them where ever they may run.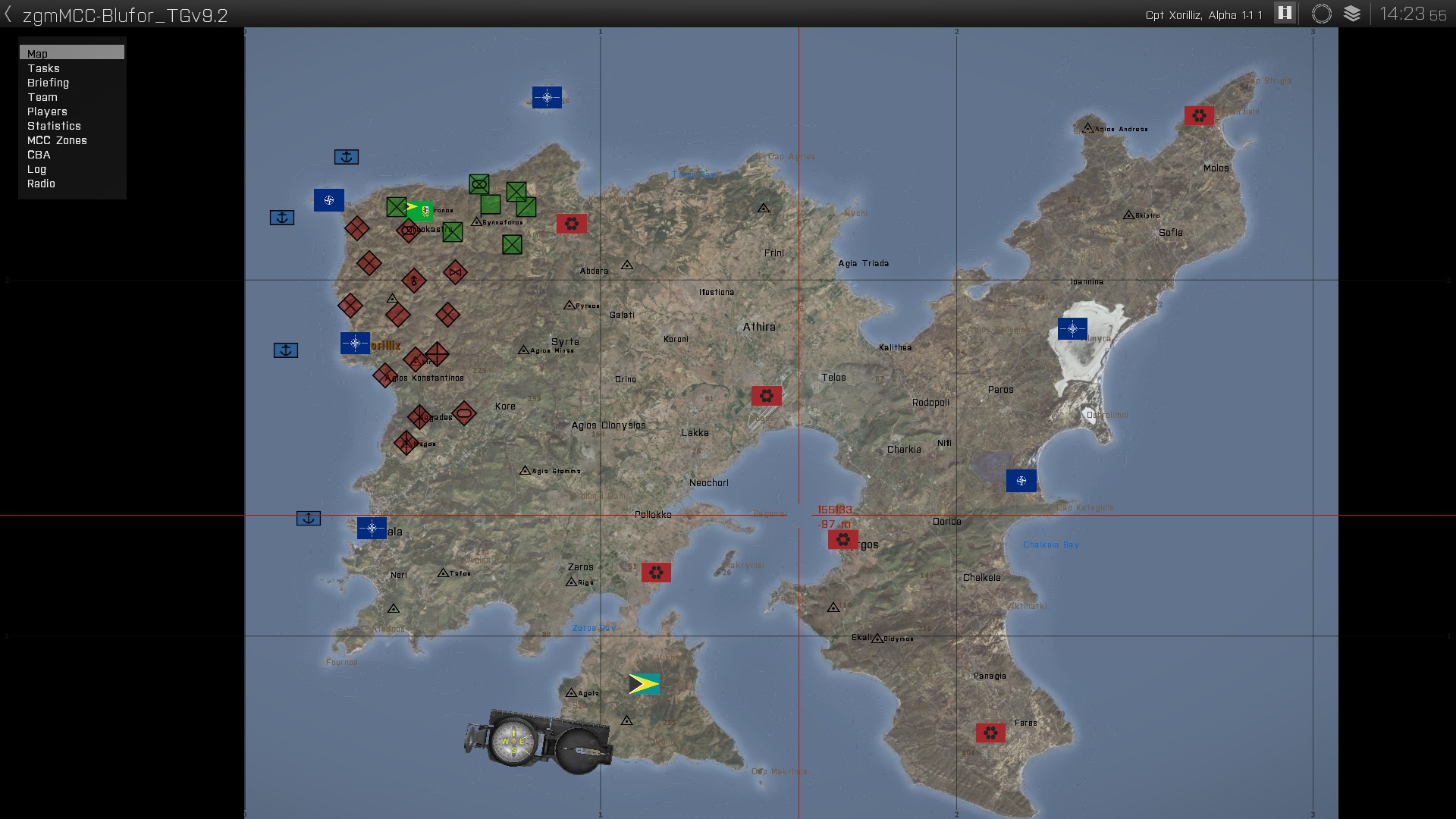 This is a first test of a much larger Zeus interaction and if all goes well it will be continously played over multiple days that I may set it up at (save/load feature). It is a casually run mission and everyone is invited to join in, leaders, riflemen, UGV operators, pilots, crewmen... we need it all. No sign-up required, the mission will go on for hours so join in when you like. I have time to go on for around 6-8 hours. AAR will be started by me after every mission-day with progression screenshots.
MODS: CBA and TFR as per usual, ingame VON may have to be used in conjunction for JIP's
Stuck? Having an issue? Need Zeus's attention at base? Press your Zeus button (default Y, check your Zeus tab in Settings to make sure)
Briefing:
Welcome to Operation Seagull:
You are a part of the NATO naval assault on Western Altis working your way inland while the pre-assault in the East creates diversions to relocate CSAT QRF.
RoE:
AAF, FIA and Civilians are to be considered friendly unless fired upon, their allegiance may change so keep your eyes open.
Objective:
Seek out and clear locations to establish a foothold. Capture important locations to gain assets and create FOB's by driving in the boxed truck or airlifting Chinook cargo boxes. You can request for any equipment by Zeus which he can accept or reject. Do not rely completely on map markers showing faction unit locations, sweep entire regions completely and expect movement anywhere, marked or not. Destroy all enemy equipment, bring explosives if possible.
UAVs Grounded:
Any and all UAVs are grounded for gameplay enhancement. Do not take the Darter Quadrotor UAV available in the Arsenal. It will be like this unless you want me to place millions of AI (low fps) over the Island before-hand so the UAV can recon properly.
Current Secondary Tasks:
Threat: Investigate
Reports indicate noises nearby, investigate grid: 029185
Crewmen: Defend
Take the IFV-6a Cheetah and neutralize enemy naval and aerial logistical units, be on the lookout for nearby CSAT ground units. Recommendation setup near grid: 029177
Pilot: Supplies
Another NATO base is recieving large supply shipments, use your Chinook or other choppers to collect any or all equipment for use in base or on field: Chinook cargo boxes (Medical/Repair/Refuel/Rearm/Cargo Arsenal), unarmed/armed Hunters, unarmed/armed UGVs, Boats, Vehicle Ammo boxes, Boxes with NATO ammunition. Supplies are located in Kastro Castle near Kavala at grid: 030131