Operation Seagull Day-2
Same principles, more cruelty fun
Island Control Status: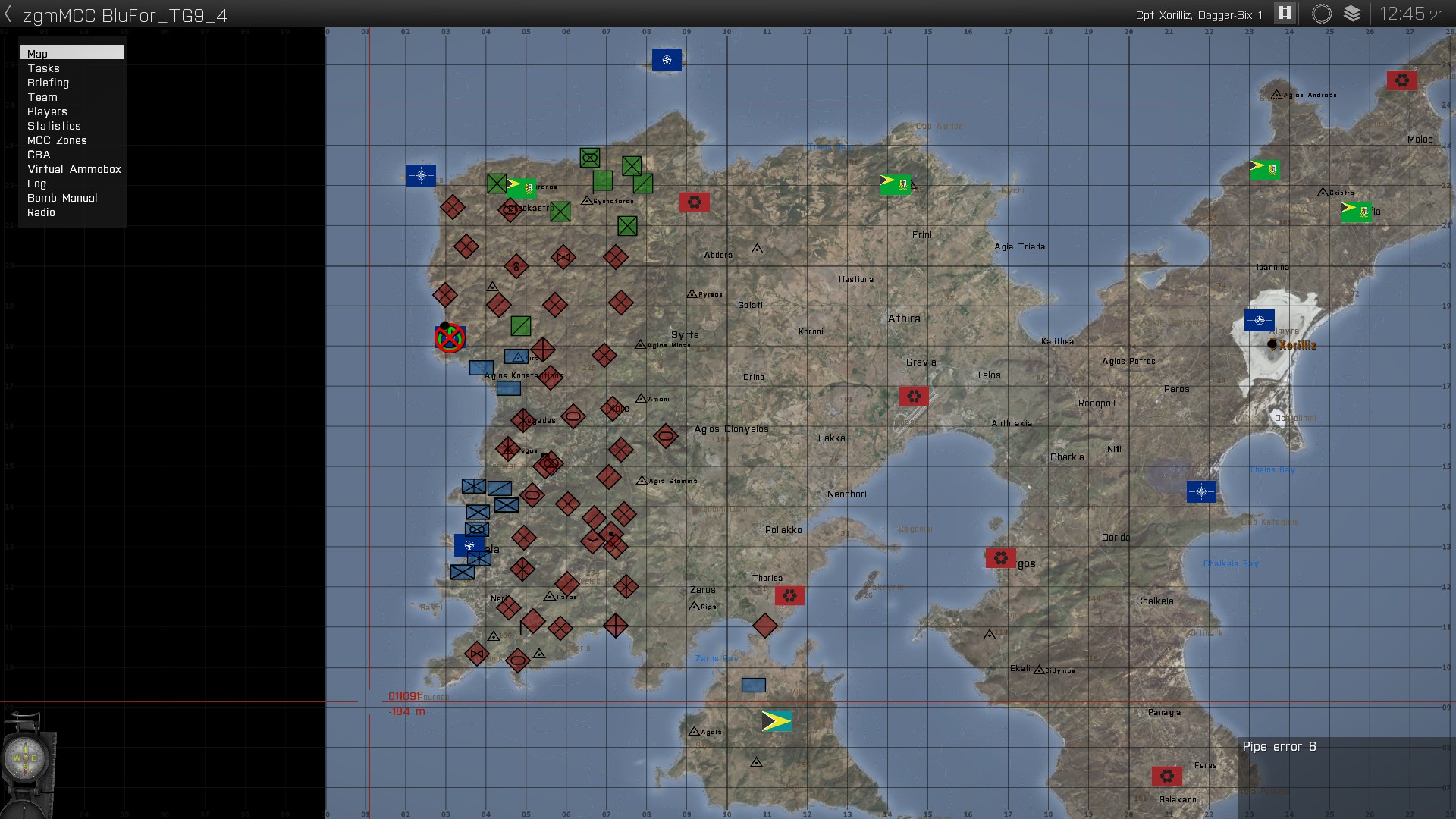 Real-Time Edited mission by a Zeus
No sign-up
Optional Mods: CBA & TFR
Suggested specialized roles in order:
1. Explosives specialist/Engineer
2. (Lift chopper) Rotary Pilot
3. UGV operator and/or Crewmen
Supplies:
Base (HQ):
IFV-6a Cheetah AAA, MRAP, Boxed FOB Truck, Vehicle/Personell ammunition
Replenished:
IFV-6c Panther APC, CRV-6e Bobcat Service vehicle, Hummingbird, Chinook repaired
Collected:
Liftable FOB Cargo Box, MRAP HMG
Not Replenished:
Pawnee CAS, Ghosthawk, MRAP
More available through Supply tasks and by creating FOB's/moving inland
In-game mission information
Primary Task:
Capture Altis
Read the objective Briefing for more information
Briefing:
Welcome to Operation Seagull:
You are a part of the NATO naval assault on Western Altis working your way inland while the pre-assault in the East creates diversions to relocate CSAT QRF. Multi-day Persistent Mission.
RoE:
AAF, FIA and Civilians are to be considered friendly unless fired upon, their allegiance may change so keep your eyes open.
Objective:
1) Weaken the CSAT resolve on Altis by roughly sweeping marked areas and choose to clear buildings or not, NATO Forces will sweep the remainder. Do not rely completely on map markers showing faction unit locations, expect movement anywhere while moving through a region, marked or not.
2) Destroy all enemy equipment, bring explosives if possible.
3) Capture important locations to gain heavier assets and create FOB's by driving in the boxed truck or airlifting Chinook cargo boxes (Zeus-created FOB).
UAVs Grounded:
Any and all UAVs are grounded for gameplay enhancement. Do not take the Darter Quadrotor UAV available in the Arsenal. It will be like this unless you want me to place millions of AI (low fps) over the Island before-hand so the UAV can recon properly.
Current Secondary Tasks:
Choice: Assist
We don't have the time for both options, you have to choose between 1) helping out our current ally Altian Armed Forces (AAF recon indicates a weak point in CSAT control to push through in grid: 0419) or 2) helping out NATO forces in Kavala by clearing out the far outskirts of the large city to strengthen the assault on southern Altis.
Pilot: Supplies (Repeatable)
Another NATO base is recieving large supply shipments, use your Chinook or other choppers to collect any or all equipment for use in base or on field: Chinook cargo boxes (Medical/Repair/Refuel/Rearm/Cargo FOB), unarmed/armed Hunters, unarmed/armed UGVs, Vehicle Ammo boxes, Boxes with NATO ammunition. Supplies are located in Kastro Castle near Kavala at grid: 030131