This is an open discussion and a "rethink" of TG's Current Comms Channel structure in Team speak. This discussion is ONLY RELEVANT to the Evolution server (and any other large scale, multi squad, coop missions that might come along in the future .... Queens Gambit Maybe?)
I welcome input from all interested parties. The more people who review this thread and look for better ideas, the more valuable this thread will be.
As the EVO server gets more and more popular, the limitations of our current Teamspeak comms channel and squad org systems are becoming apparent.
The goal of this very serious discussion is as follows.
#1.
To graphically depict the Team speak Comms structure we are using now so that all readers can "see" how our current structure is potentially "Task Saturating" squad leaders unnecessarily
#2.
To show some ideas on how we can restructure the TG ArmA Teamspeak channel structure moving forward to "Unload" the squad leaders (and his squad members) of certain communications that are not relevant to them. This will greatly assist in keeping a Squad leader's Comms channels clear (and those of his members) so he and his squad can better meet their objectives and communicate with FAR FEWER INTERRUPTIONS THAT ARE IRRELEVANT TO THAT SQUAD LEADER AT THAT MOMENT. Please note that I DO NOT mean to imply that the other comms are irrelevant to the server. On the contrary. The idea here is to get all comms to go where they are needed so that ALL PLAYERS, including first time arrivals, are BETTER SERVED.
#3.
To show how "unloading" the squad leaders ears of many of the comms he currently has to listen to (and often respond to) will actually ENHANCE the servers ability to assist new players in getting into the field and getting into squads. NEW ARRIVALS and RESPAWNERS will have **LESS** wait time to get back into the action.
#4.
To show how "Unloading" the squad leaders ears can allow all squad leaders more time to coordinate with other squads and armor elements, air support (not to be confused with air transport), so that they can execute combined assault tactics more fully.
The Benefits of improving TG's Teamspeak-based comms protocols and channel structure are many. Lets begin by understanding more clearly how they are right now. By seeing clearly what we have now, we can better understand how to get to a better structure.
The first picture below is a depiction of how things are today.
Please note that every picture ahead shows what channel people are in and who can hear them when they talk. It is the purpose of the images.
In TG's current EVOLUTION SERVER COMMS approach, the following weaknesses can be seen by the image below...
All squad members, INCLUDING THE SQUAD LEADER, typically hear the voice of EVERY NEW ARRIVAL to the server. This includes every RESPAWN from your own squad who just died and re appeared at the Base. They often additionally hear the dedicated transport guys as well. THIS IS NOT GOOD. There is no useful purpose in a squad leader AND EVERY SQUAD MEMBER hearing new arrivals, respawns and dedicated transport folks working together to get people back to their squad or assign them a squad. These comms (between new arrivals, respawns and dedicated transport folks) serve only to STEP ON vital in-squad transmissions which need to occur between SQUAD LEAD and members currently in harms way. Some one other than the SL needs to coordinate the assignment and transport of new arrival and respawners. (more on this newly defined individual, called the RADIO OFFICER, later).
Now lets look at image #1. It shows quite graphically the level of radio traffic going INTO THE EARS of EVERY squad member and their squad leader, as we are setup today at TacticalGamer.com.
What an overwhelming barrage of voices!. It is not uncommon during periods of enemy contact to have as many as 8 or more voices in the heads of SL's and their members! And only one or 2 of them are actually relevant to the moment. And the last thing Squad members need to hear during contact is anything other than their SL's orders and the "contact calls" of their immediate squad buddies.
So if we can now understand this issue, the question becomes how we can make this better?
In order to improve this, the squad leader, IMHO, will need to ALWAYS assign a person in his squad that he will designate the RADIO OFFICER. In the next (and all following) images, you will see the introduction of a radio officer into the key and the process (He is the neon green guy).
Personally, I intend make the radio officer my DELTA guy, because as squad leader, I typically make bounding movements with my squad members in alphabetical order. This will tend to leave the Radio officer farther in the rears to manage radio traffic when he needs to.
THE KEY PURPOSE FOR ASSINGING A RADIO OFFICER IN YOUR SQUAD IS TO FULLY UNBRUDEN ALL OTHER MEMBERS OF THE SQUAD, INCLUDING THE LEAD, FROM HAVING TO HEAR ANY RADIO TRAFFIC RELATING TO GETTING NEW ARRIVALS AND RESPAWNS, IN COORDINATION WITH DEDICATED TRANSPORT, DISTRIBUTED TO SQUADS WHO NEED THEM.
In fact, by unburdening the rest of the squad and its lead from this radio chatter, 3 things are improved.
1. Squad lead can focus better and keep his squad safe and moving towards its objective faster.
2. Squad members can now hear more of the lead's orders because radio traffic (in their ears) are greatly reduced.
3. New Arrival and Respawns are now BETTER and MORE QUICKLY served because a dedicated guy (the radio officer) who is not already saturated with squad lead responsibilities, can focus on getting them the info they need to get back into the action
Once the radio officer coordinates with dedicated transport and the new arrival (or respawn) and provides map markers for LZ or truck location for delivery, then the radio officer can say ONE SIMPLE THING on the radio to the entire squad. "SL, this is RO. So-and-so is inbound to the squad, ETA 3 minutes". That's it. All the coordination talk (and there is a metric boat load of that stuff …… it could fill a 5 ton truck) does not need to crowd the ears of the squad leader or the rest of his squad. Only the Radio officer (RO) will hear that stuff. It is his job and his job alone to manage it
This next image shows the current ideal design for just such a communication scheme. Please note that this ideal design is not actually possible in Teamspeak right now. But we must see what we are doing now (the first image of chaos) and the ideal image (this next one) to better understand what compromises we may be able to live with in changing our current Teamspeak channel organization, until TeamSpeak gets updated or a more versatile gaming comms software comms along.
Please note the addition of a new channel in this next image. This is a channel we do not currently have at TG EVOLUTION TeamSpeak server. It is called ….
The "NEW ARRIVALS AND DEDICATED TRANSPORT" Channel.
It is a vitally new important new channel to isolate all the traffic within itself and with the radio officer so that the SLs and squad members do not hear a peep of that very important subsystem of activity.
Here is the image of the ideal or "Best" solution
Additionally, here is the exact same image as the "BEST" image, only slightly more cluttered to actually show all 4 squads interacting with the ideal solution, rather than just one squad. The "bigger picture", if you will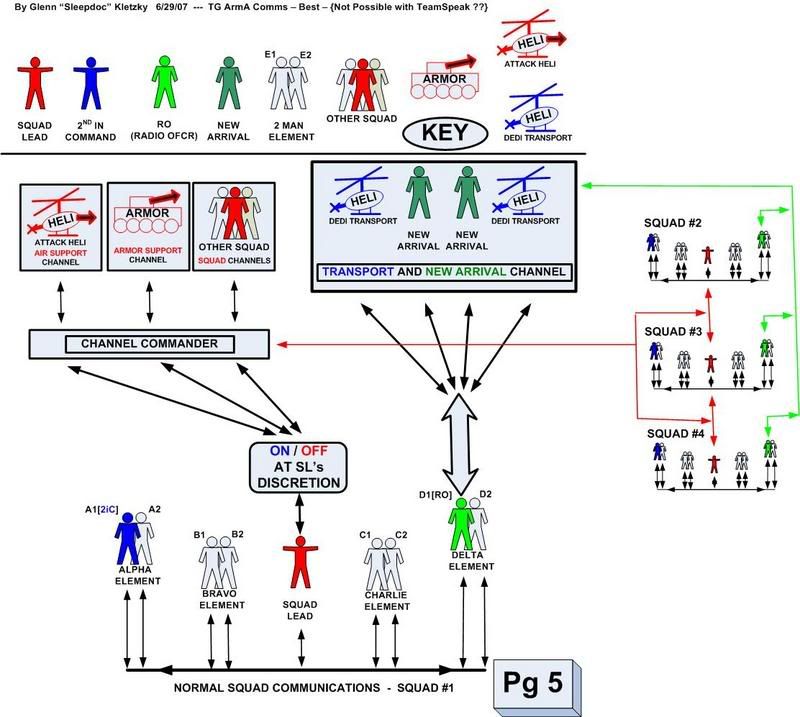 So now, we have seen how "LOUD" and "unnecessarily merged" all comms were in the first image and we have seen how nice it would be if we could set up TeamSpeak, in conjunction with the designation of a radio officer in each squad, to create a far less "comms saturated" environment for the leads and their members.
But alas, we have to deal with the realities of Teamspeak. As far we can see, Teamspeak will not actually allow a channel construct as seen in the previous 2 images.
The reality is that Channel commander is all we have. We cannot have 2 distinct channel commander situations. At least not yet as far as we know. (If any one can deign a work around in Teamspeak for this image, I will jump for joy)
So the question becomes, how can we compromise and use The SINGLE channel commander feature better to unload the Leads and their members and re-distribute that load over to the new "RADIO OFFICER" position that each squad leader should assign to his squad (Stay tuned,… a new, fully featured Squad leader lesson plan, complete with actual classes, is being developed and will be taught soon to interested parties. I just need to finish it and get it fully edited, reviewed, and approved by the TG authorities and Admins.)
The next image shows that compromise.
What it shows is that the radio officer is continually tuned into Channel commander. NOT THE SQUAD LEADER. The squad leader only goes into Channel commander when he needs to in order to coordinate with air support, armor support, or other squad leaders. And in the instance when a platoon commander is online, he functions from Channel commander as well.
As with all compromises, certain things are less than perfect. So the question becomes "What have we lost through this new approach and is it worth it for what we gain". In other words, does the next image present and improvement over what we have now?
In my humble opinion, the answer is a resounding "YES". However, it not my job to believe myself. It is best that I convince all of you and listen to everyone's input. Maybe something even better than this design will emerge in the ensuing discussions.
First, lets list the compromising elements of the next image.
Compromise #1. The Radio officer must not only hear all coordination chatter related to new arrival, respawns and dedicated transport (his actual job), he must also hear the chatter of other squad leaders, and attack support from the air and ground.
To me, this is still ##FAR## better than the squad leader hearing it all the time. After all, the squad leader has things to do. He is a busy guy. So are his members. I see this trade off as being 100% better for the squad leaders and squad members while only incrementally burdening the RO more. But lets face it. The RO has more bandwidth to deal with the chatter than the SL does. And there is never a reason for the squad members to hear all that.
Compromise #2. In order to know that the presence of the Squad leader is requested on the Channel commander channel, it must be relayed by the RO to SL.
To me, I'm not sure this is actually a compromise. This may actually prove to be an advantage. Think about it. Here is an example. Squad 1 comes on to the channel commander channel during a period of relative calm for them in hopes of communicating with squad #2 for coordination. If squad #2 also has relative calm, the RO relays the request to SL and SL gets on the channel and has the conversation. If Squad #2 is under fire, the RO already knows this. He can ACTUALLY USE HIS OWN GOOD JUDGEMENT and tell Squad #1 that we are currently under fire. He doesn't even have to tell the SL that squad #1 is on the phone. What a boo-tee-ful ting. Why on God's green earth would a SL want to coordinate while under fire? Now, if the SL actually wanted coordinated assistance, that would be a different matter (like we were pinned down and decided he wanted armor support on his position). In that instance, the SL has 2 options.
#1.
The SL can ask the RO to request assistance. Now, the RO can handle the entire coordination comms business of getting another squad into our area for help. Maybe call in armor or air attack or another squad. But the point here is that the SL can off load the request to the RO. And once the RO has solved it, he can simply tell the squad the result, like "Cobra 1 inbound on our position, markers of enemy troops placed in the map for them, ETA 2 minutes to the fireworks ... take cover". Again ---a boo-tee-ful ting. The SL could remain focused on keeping his squad safe and the RO handled it all.
#2.
If the SL wanted to, he could simply turn on the channel commander and handle it himself. (Note in the image that the words "on/off at SL's discretion" is there for a reason. As SL, he would have it off almost all the time. And if the RO felt the SL needed to "get on the phone for something, he would let him know.
This last option #2 points out a key element of the "compromise plan" as seen in the image below. Note how **BOTH** the RO and the SL are in Channel commander. The HUGE difference is that the SL only turns ##ON## the channel commander mode IF HE WANTS TO. This is a huge distinction from the radio officer who turns ##OFF## the channel commander ONLY IF THE SL ORDERS HIM TO DO SO. In other words, the RO is ALWAYS listening to Channel commander and always talking on it as he needs to, but only relays brief, finalized info to the squad as required.
Of course, if the SL wants to have a nice little chat around the fire back at base (or anywhere really) to get his squad organized and planned out, he can always ask the RO to turn off his Channel Commander for a few minutes so that there are no audible interruptions to any member of the squad during the SL's planning talk. But once the planning phase is over, the RO's responsibility to turn on, and LEAVE ON, the channel commander for the duration of the mission.
Here is the compromise image, and the one I am currently recommending TG move to eventually (once it is taught and more widely understood). As metioned earlier, please take special note of the addition of a new channel called the..
"NEW ARRIVAL AND DEDICATED TRANSPORT" Channel. Of course, respawns also go to this channel as well after they respawn until they have been successfully arrived back with their squad.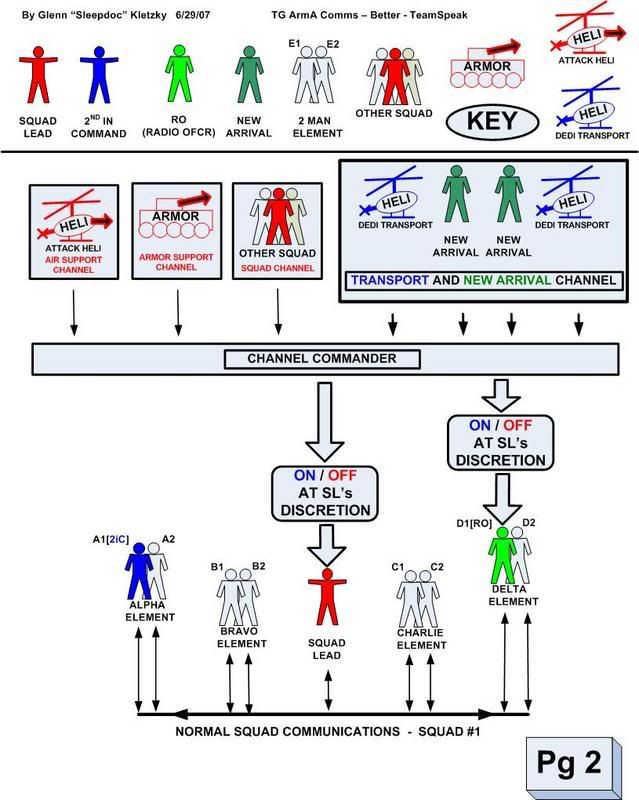 And here is that same compromise image showing the integration of the additional 3 squads (a bit more cluttered).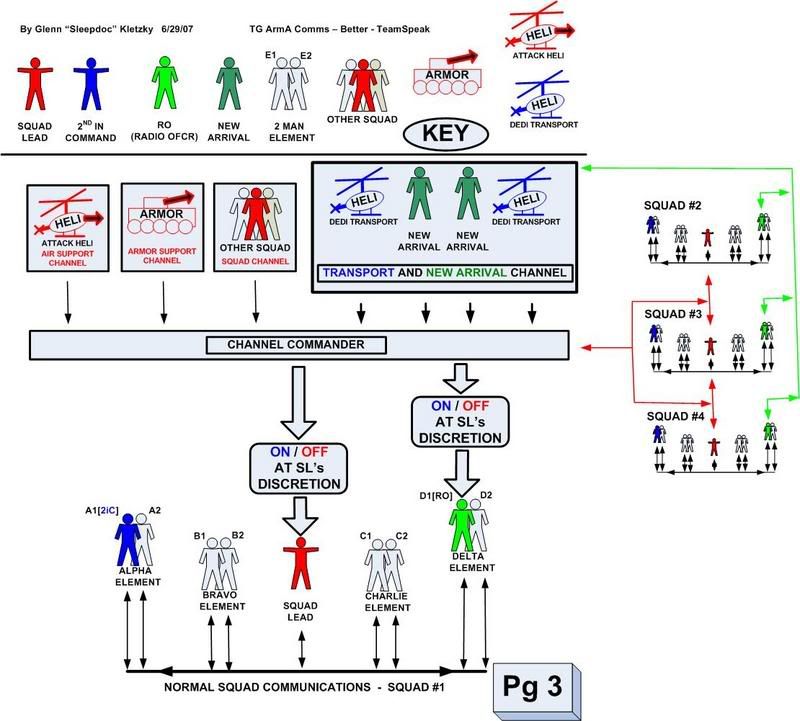 I look very much forward to the input of all persons as the purpose of this post was to get everyone involved to further vette out a new solution that everyone can live with.
Thank you all for you attention to this matter and I apologize for the length of this post. But it needed to be done.
All the Best,
Glenn "Sleepdoc" Kletzky