Please answer any of the questions below you know the answer to. refer to the letter designation i used to refer to the image so people can answer what they know and ignore others.
First,
Where is the map key
to tell exactly what all the little symbols and colors and dashed lines vs. solid lines etc means on the ArmA map?
Is this NATO standard symbology? Does anyone have a good read to talk to all of this? Dyslexci's map section, as nice at it is, does not answer much of this detail.
I get the terrain/elevation stuff. But there are clearly some additional nuances I am missing.
>>>>> 1. Colors (Black - Brown - Green - grey - red - Blue
>>>>> 2. Lines (solid vs. Dotted vs. Dash-dot vs. Dash)
>>>>> 3. Symbols
>>>>> 4. Structures.
Take a look at this image and see my best guesses and questions about them below.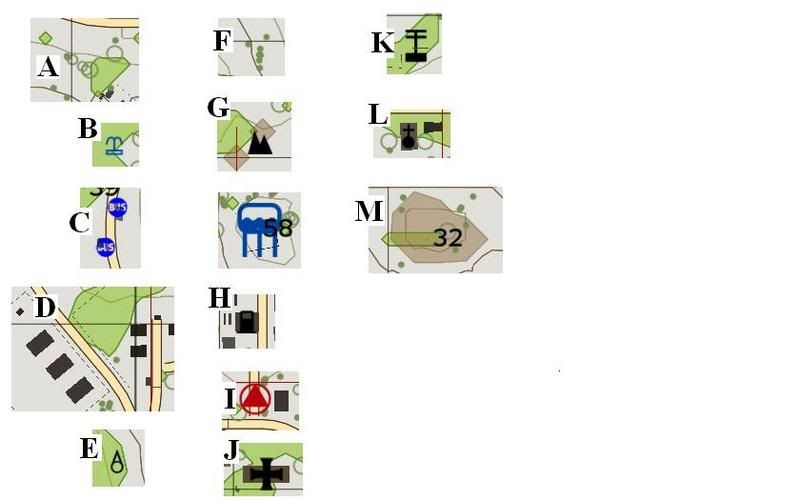 A.
What are the differences between the
>>>>>> 1. Little Green Circles
>>>>>> 2. Litte Green Diamond
>>>>>> 3. Little Green Dots
>>>>>> 4. Solid green patch ( I assume this a patch of trees. please confirm)
B.
A Blue Water fountain? I assume Blue always means water of some sort.
C.
Bus Stops i guess
D.
It appears the building son the left (3 in a row) are brown while the buildings on the right (2 in a row) are Black. What does Vrown vs. Black imply about a structure? Also note the dashed lines around compounds. Fence i assume?
E.
Hmm.. not sure what this one is???? any one know?
F.
More green dots. Bushes? shrubs maybe, implying low level concelament and not tall trees?
G.
I assume the tall Black peaked symbols means abrupt and tall mountains? Please confirm. But if so, explain the meaning of the Brown diamonds as they realte to the green area (which i assume is forrest/dense trees)?
H.
A gas station i guess?
I.
Thre red diamond in a circle? I'm not sure.
J.
Church. This i confirmed
K.
Not sure. Maybe the electrical substation for the city?
L.
hmmm..? a small church? Not sure.
M.
What does the green horizontally oriented patch in the middle of this brown region mean? I noticed that tihs path is transparent and not solid. So I'm not so qiuck to assume it is simply a line of trees. Does the transparency means something? is it a reflection of overall density of trees?