Hello to everyone.
I finally decided to make a 3 points cap to use with FreeTrack and this is awsome!
Check the FreeTrack site for more info and other tutorials:
http://www.free-track.net/english/
What's FreeTrack?:
FreeTrack is a free optical motion tracking application for Microsoft Windows, released under the GNU General Public License. Its main function is inexpensive head tracking in computer games and simulations but can also be used for general computer accessibility, in particular hands-free computing. Tracking is sensitive enough that only small head movements are required so that the user's eyes never leave the screen.

Head motions are tracked with six degrees of freedom (6DOF), specifically; yaw, pitch, roll, left/right, up/down and forward/back. This is done by means of a video capture device, typically a webcam, which is placed in front of the user and tracks a rigid point model headpiece. This point model usually consists of infrared LEDs but can also be normal LEDs and even retroreflective material illuminated by a source of infrared light.

FreeTrack can output head tracking data directly using TrackIR™, SimConnect and FSUIPC interfaces, programs that support these interfaces are regarded as having FreeTrack support. General input devices can also be emulated, specifically mouse, keyboard, and joystick (via PPJoy).
Compatible titles :
First person shooters :

* America's Army - v2.8.2 (Only in HMMWV vehicle)
* Armed Assault
* Insurgency (mod, rudimentary implementation )

Driving simulators :

* Colin McRae Dirt
* F1 Challenge 99-02 (Using TIR_Attack, more info here)*
* Grand Prix Legends (GPLShift 7.3.2)*
* GTR2
* GT Legends
* Live for Speed S2 (W47)*
* Netkar PRO
* Race 07
* rFactor v1.250
* Richard Burns Rally (Using TIR_Attack 1.7, more info here)*
* Test Drive Unlimited

Flight Simulators :

* Aces High II v2.10 patch 2
* Combat Flight Simulator 3 (Using TIR_Attack, more info here)*
* Condor : The Competition Soaring Simulator
* Enemy Engaged: Commanche vs Hokum 1.9
* Evochron Renegades
* Falcon 4.0 Allied Force
* Falcon 4.0 (OF, FreeFalcon4/RedViper, FreeFalcon5)
* First Eagles: The Great War 1918
* Flight Simulator 2002 and 2004
* Flight Simulator X
* Il2-1946
* IL2 Sturmovik
* Jane's F/A-18
* Lock On: Modern Air Combat
* Lock On 1.1: Flaming Cliffs
* Lomac 1.12
* MiG Alley
* Silent Wings
* Strike Fighter Project One
* X-Plane 8 and 9 (PilotView is needed to get the 6 DOF)

Misc Simulators :

* Ship Simulator 2006
* TrainZ Simulator 2006
* Virtual Sailor
* RealFlight G3,5

Others Games :

* Arvoch conflict
* Descent II
* Eve Online
* Future Pinball

* These programs require a specific setup to work properly with FreeTrack. (see Handbook).
Stuff that I used:
- 3 Siemens Infra-red Leds 1,5 mm of diameter, max forward current 100 mA, voltage drop 1,7 V;
- 3 Resistances 27 Ohms;
- 2 junction boxes;
- Soldering iron and solder;
- 1 old TV remote control;
- 2 AAA 1,5 V batteries;
- Microsoft LifeCam VX 3000.
Check the FreeTrack website LED Assembly Wizard:
Link
About the Leds: In FreeTrack website they recommend that you use SFH485P Led models, or equivalents, they weren't available in the store I went to, so I bought 3 standard Infra-red Leds.
About the resistances: Don't forget that the bigger the resistances are the less current will feed the Leds. As my intention is playing with some room light, I went with a froward current of 50 mA, so that the webcam can pick the Leds easily.
NOTE: Don't forget to weld the resistances to the positive side of the LEDS.
LED Assembly:
Pictures of my assembly:
The Leds and resistances.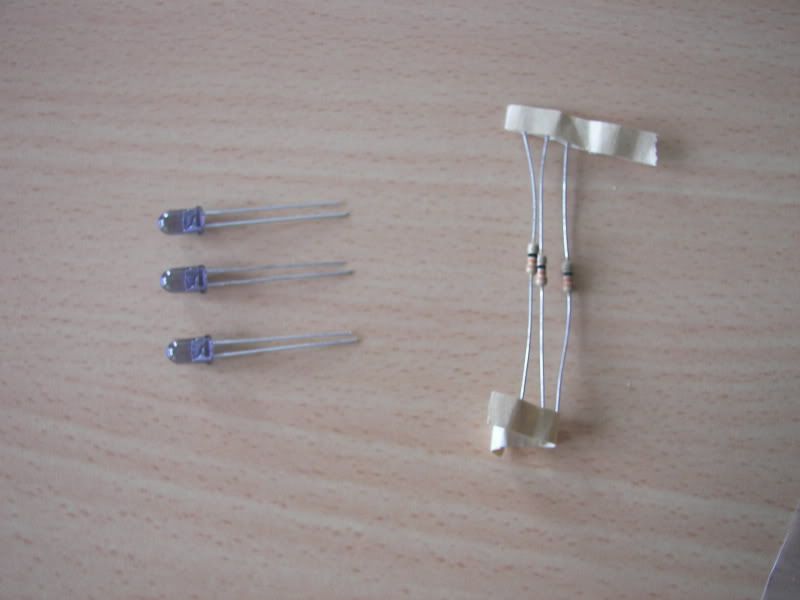 The Cap...
The AAA batteries box.
The junction box, make sure you connect positives with positives only, and the same for the negatives.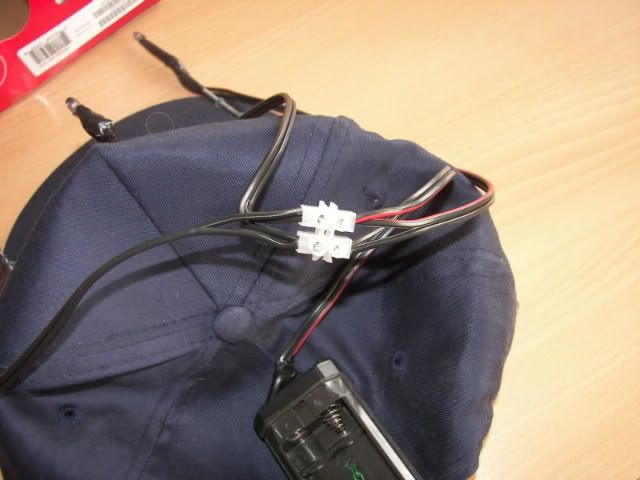 Do not forget to isolate very well the Led+Resistances welding.
Try to keep the distance between the Leds as precise as possible.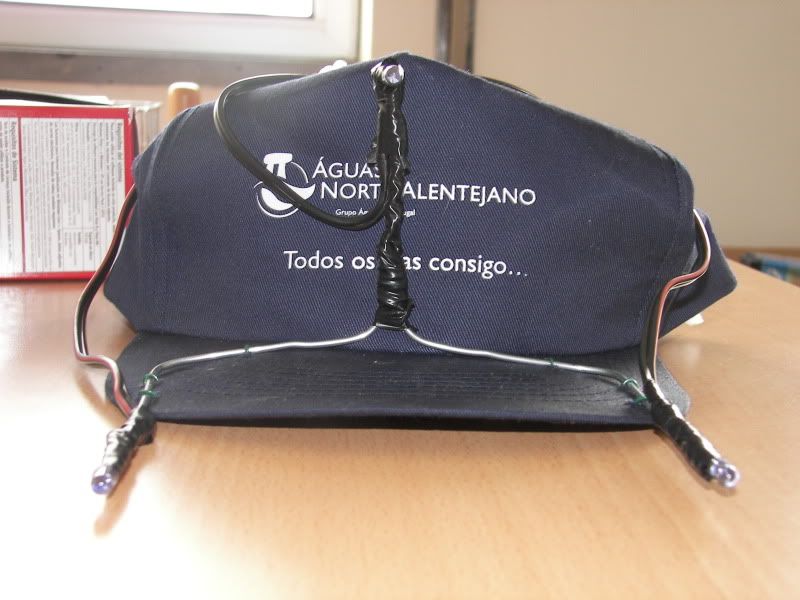 The webcam can be modified so it receives only infra-red light, I didn't do that to mine, as it was able to pick up the Leds signal easily, but you can check how to remove the IR filter
HERE
.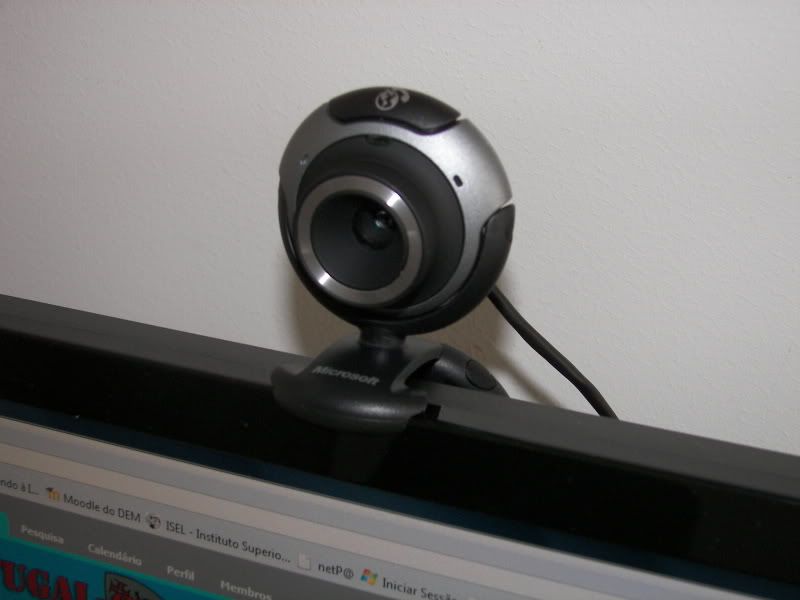 The hardest part is getting the right configuration in FreeTrack program, so here goes mine:
The first step is to configure your webcam, open the "Stream" option and in "compression" select I420 (It offers the best results). In the resolution, the 640x480 is the one that as the best tracking, but with less FPS; if you have FPS problems, it's best to lower to 320x240.
In the camera options, select outdoor in the "In/Outdoor" option and move the "Exposure" slider to zero or four, it depends on how much room light you have.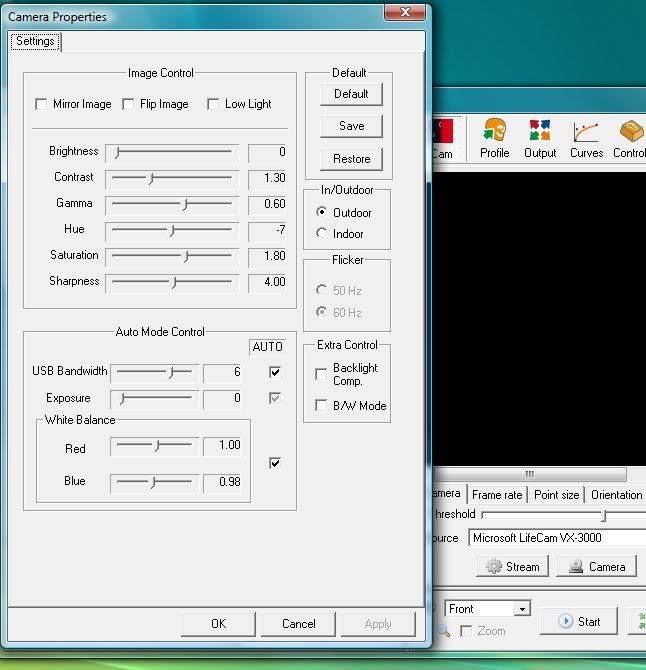 In the "Point size" tab, put the "min point diameter" in 1, it means that the "tracking" will be done even when the Leds are small dots in the webcam. And make sure that you put the Leds size in the "sensor width".
To end the configuration, you only have to introduce the distances between your leds, in the "Model" option.
Now press "Start" and watch the magic! :D
Now you only have to adjust, the sensitivity in the games profiles, so you can have the best gaming experience.
I hope this can help you guys in your tracking device and sorry for my bad English.
Compliments, Jorge.PT aka Jorge :P