Yesterday, on password night, I joined the server while it was running Kashan desert. I get into Alpha squad which had one blackhawk, I hopped in the second blackhawk and I did a nice extraction for squad 3 (don't remember the squad leader name) that need a ride from North Bunker. My SL's was relaying information to the Commander, Squad 3 did the same and SL's gave me the order!
Today I found this thread on the realitymod.com forum. That's a great guide to any ppl who want a pickup from a chopper!
http://www.realitymod.com/forum/f143...anners-sl.html
I liked the image he made alot! Very clear and funny!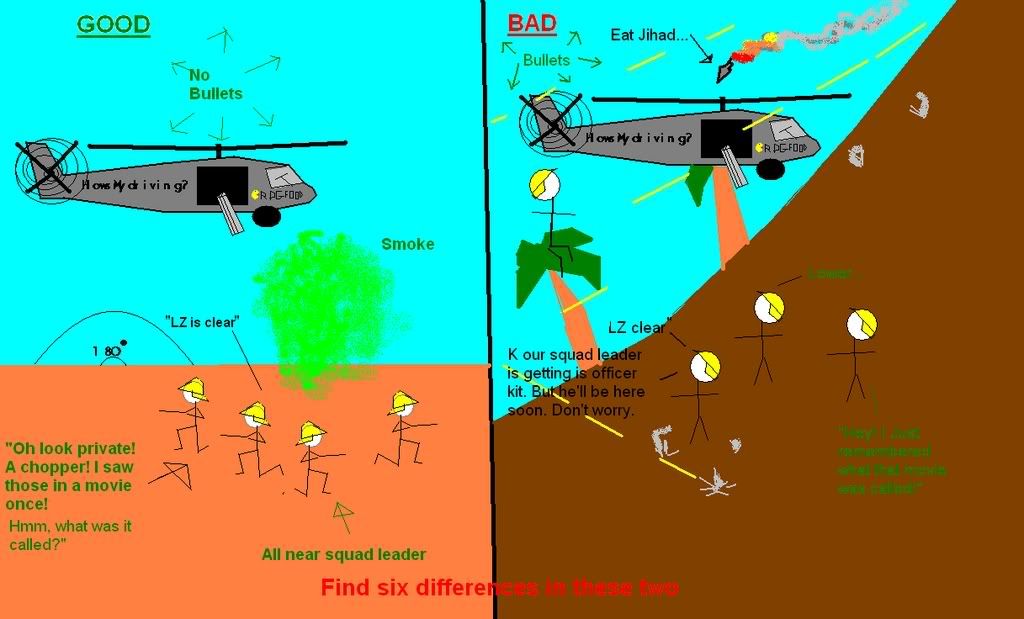 I decided to post this because of yesterday pickup I did... I found it very nice and organized! What SQUAD 3 have to say on this?
To resume, when you want a transport
#1 Ask to CO or on the CHAT if it's available
#2 Regroup your squad on SL position
#3 Ask for pickup
#4 Pop out smoke to give a "smoke wall" that would potentially obscure the view from any enemy infantry/tank/apc. ( DO NOT SMOKE THE LANDING ZONE )
#5 Move behind the smoke at 5-10m of a open area (LZ)... ALL TOGETHER!
#6 Let the blackhawk LAND or STABILIZE before trying to get inside! ( get in by the SIDE DOOR )
#7 Don't RIP OFF the mini gun!!!!
#8 Tell where you want to go to CO or textchat.
So... if you have a good pilot in control... all of this should be good!
Cya on the server!