Been thinking about why Kubra seems to frustrate so many people - I think it has to do with the fact that it often turns into a whack-a-mole map, like Dragon Valley, but it is harder to navigate on foot and has more opportunities for ambush. The advantage of the tough terrain, however, makes it easier to form a tight defense, IMO.
Anyway, I was tooling around with ATC and came up with this opening MEC strategy: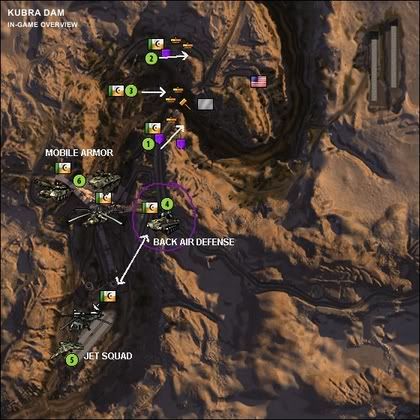 The idea is to bottle up the USMC at the bridge while limiting their ability to drop a blackhawk squad behind the dam. Teams 1-3 coordinate at the bridge, while team 4 plays rolling defense. Team 6 works as a flying armor company (pulling armor the airfield, dam, and power station) to support 1-3 or 4 as needed.
The MEC defense usually falls apart when the USMC can get armor or infantry under the bridge to those northern flags or successfully drops forces on the dam or airfield. Most of the time it's easier to steal MEC armor than try to bring up their own. The point of this tactic is to keep them in a stalemate at the bridge for as long as possible to prevent that.
Also sketched out an assault pattern for hitting the bridge base, if the commander would be so inclined: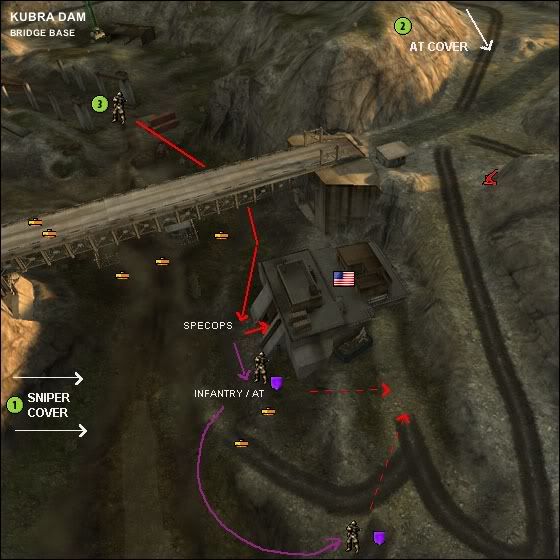 The disadvantage of such a narrow defense is vulnerability to enemy artillery, so you would probably need a spec ops team to blind the enemy commander ASAP.
I can see a few ways around this defense, but I wanted to get people's opinions on this setup.