Introduction and problem definition:
This idea started when I read somewhere that doctrine says that a suppressive fire element should outnumber the assaulting element at least 2 to 1, preferably 3 to 1.
When trying to implement suppression, and flanking with the MIP fireteams, often the suppressive fire element (alpha or bravo, each 3ppl) would have a member picked of quickly. The medic would react, and suppression was out of the question.
Solution:
The doctrine and in-game experience got me thinking, and I adapted the fireteam-strat. I believe in the last of his BF2 days, John also tried to do this, but without me noticing it, without explaining it.
I'm making this post, so that anyone who plays in my squad understands what my goal is when designating kits and positions. It may help people to better know what is expected of them. Off course I would love it if other squads used this stuff, be sure to invite me to that squad!
Implementation:
(1):Movement
The first pic is the traditional column formation the MIP would use when when there is cover and concealment around, like a forest. All the following is not suited for large open expanses (e.g. most of Kashan - better to get a jeep) or dense urban terrain (better to use 3 man teams using overwatch. A great map for this stuff is ghost train.
The kit layout is also in the picture.
The most important issues:
-A2 is support gunner, he shouldn't be on point.
-B2 has a good assault kit, and Fireteamleader when bravo is orderedto do something. "Bravo do X" means Bravo 2 takes control and leads bravo. "Bravo WE are doing X" means SL will keep control of bravo. "Bravo on me" is best added in this case to avoid confusion.
-Contrary to MIP tactics, B3 can have another kit, as the assault
element will not have the time to heal during the attack anyway.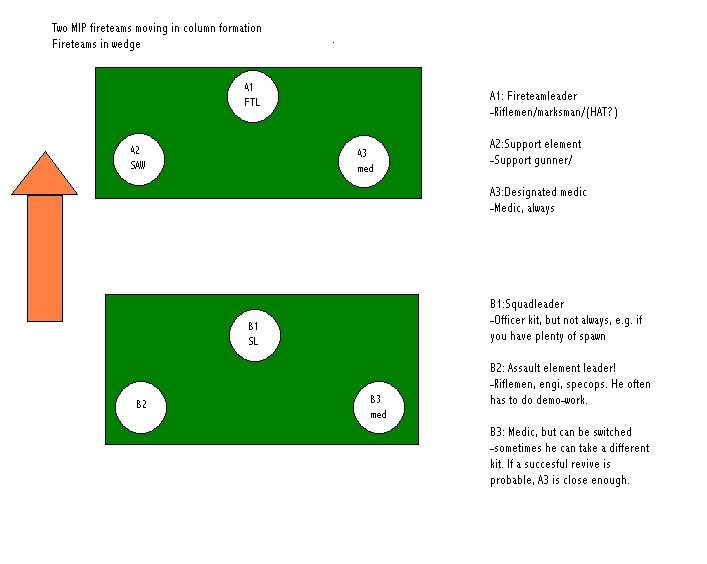 (2):Contact
Now in the second pic, the new thing (vs mip) is that the SL attaches on the A3 medic's side to Alpha, thus changing the manpower ratio of suppression and assault elements from 1/1 to 2/1, reaching the minimum specified by military doctrine.
This can be done quite quickly under fire, as the SL just has to run up a little, and order Bravo to flank (right, left, or though a specific location).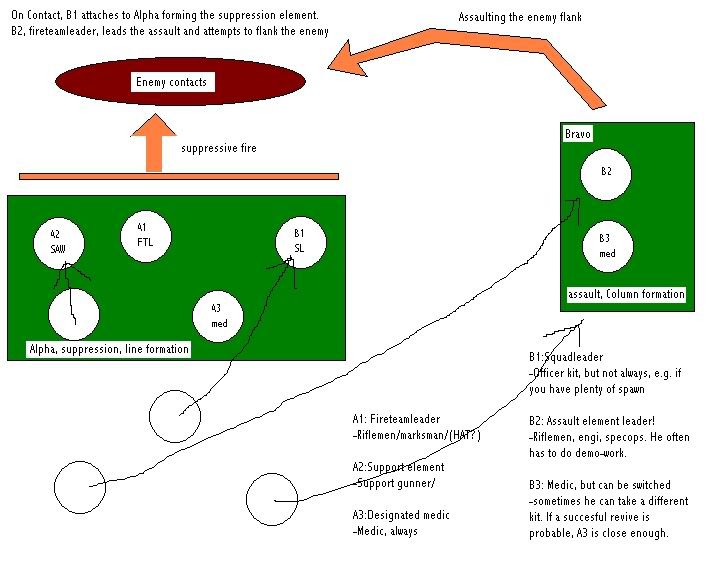 Evaluation:
So far I've had quite positive results trying this, and I am getting convinced it is quite useful. It is however rare to get a squad that is up to this kind of game-play.
You need a good A1, a decent A2 and a very good B2. Bravo 2 is the main killer here, and should be the kind of player that can kill a whole squad quickly when he has the element of surprise. He should also react very quickly, and have the discipline to disengage so that he can flank the enemy, even if it takes a while.
Problem to resolve:
One BIG problem I have is how to adapt this set-up for use of AT/Heavy-at. If I give it to Bravo, I have no assault element. I can't give A1 a pistol on point, I need A2 saw and A3.
So far I've been giving A1 light AT, and have even been taking the HAT myself if the situation allows it (e.g. a good rp/bunker near). Alternatively I have been splitting of bravo , giving them a light-AT and a HAT.
**********
Let's revive the TACTICALgamer TACTICs forum a bit guys :P, so post any remarks you have, and especially any suggestions you may have on how to reliably organise AT capability in this set-up.
**********