So I was joining some random servers before I hop in and get some games in with the TG crew and apparently people didn't like my score.
I was kicked and banned for hacking. At first I thought my game crashed but nope I was banned. Boy who ever thought there would be PC servers out there that whine and complain
about someone kicking butt. I thought I left that back at the Xbox! Anyways here is a screenie of the ban. I found it quite hilarious that they were getting their butt kicked by a lvl 5.

Edit 1:
Here is the little kick notification.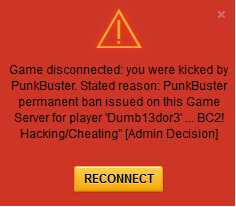 "Game disconnected: you were kicked by PunkBuster. Stated reason: PunkBuster permanent ban issued on this Game Server for player 'Dumb13dor3' ... BC2! Hacking/Cheating" [Admin Decision]"
Oh those admin abusers. lol