Introduction
There's been a lot of discussion around tweaks to the server and how to shape it. Those are important things to nail down in the opening month, but I think we also need to spend some time talking about how we can make the game itself better as individual players, particularly at the SL level. At the Squad Member level, this is about
expecting
good things from your Squad Leader and other members. Raising our expectations for each other will lead to a better overall experience. So here's my point:
You should always play with objectives in mind with the goal of overall victory. If your actions aren't designed, within the framework of TG, to achieve overall victory, you are hindering your team. This is important because while the game is a squad based game, each squad depends on each other squad.
So ask yourself with everything you do:
Will this action help my team?
There are a lot of ways to do this, and there can be many differences in opinion on how to do it, but what we don't want is for squads to do things just because those are the
comfortable
options for them.
Sample Thought Processes To Illustrate
To help illustrate how this line of reasoning might go to get to the "will my action help my team" follow me through several sample thought processes:
1. My team holds the majority of the flags, so we have bleed on the enemy. My position defending this flag is secure, and it seems like all the other squads also have secure flags. We have enough time for the bleed we currently have to win us the game, so we don't need heavier bleed. Therefore, my squad should stay and defend this flag.
2. My team holds the majority of flags, and I'm at a back flag that is unlikely to be taken quickly by the other team. But my team's other squads are under a ton of pressure in the middle of the map. I should either (a) go and help defend those flags or (b) take one of the enemy's back flags to remove pressure from the central squads.
3. My team only holds 2 of 5 flags, so my team is under bleed. My squad is full of people who excel at defending from set positions, so pushing on a flag isn't in my squads wheelhouse, but I know that Crux's squad always loves to push flags. Therefore, I should defend even though my team is under bleed.
4. My team only holds 2 of 5 flags and my team only has 150 tickets to my opponents' 300. Something needs to be done and it doesn't appear the other squads are able or willing to do it. My squad needs to attack a flag.
Obviously these are simplified thought processes and there are hundreds of other things that could be going on. But my point is that a squad leader should be thinking about this type of thing and not mindlessly deciding whether to attack or defend based on what "feels" right or is comfortable.
A Quick Note About COs
This post is focused on Squad leaders, but very similar things can be said about COs. They have the time and vision that is hard to replicate as a SL, so they are in a great position to think these things through. SLs should follow CO orders because of this (and because it's the rule: don't want to get court marshaled!). But most squads are in positions where they need to make autonomous decisions quickly and decisively.
Rooftops As An Illustration
Let me illustrate in a different more specific way. BF4 is often a very vertical game. In any given map there might be 5 different "layers" of the map that you have to worry about. One thing that happens sometimes is that a squad will spawn on top of a building, brought there by chopper or elevator or whatever. This type of position is often phenomenal for getting kills and not being killed. Sometimes it can help your team win a map. Sometimes its effect is to remove a squad from protecting or attacking flags without helping other squads take a flag.
Two examples:
Flood Zone
From here, you can provide a lot of support to ground level squads on not just one but TWO flags. You aren't directly on a flag, so if a squad sneaks in, you're still in trouble, but especially as the game progresses and all those hiding shelters go boom, air burst rifles and the like completely own the top, allowing a ground level squad to dominate. It also can control the roofs that approach from Echo, which is a great approach angle for squads trying to take B or C. There will be instances where a squad on the roof will need to get down and fight, but overall this position is a strong one. It's really annoying for players on the ground too, but with an overall point of helping the TEAM win, even as it gives gaudy Kill/Death scores.*
*No, I'm not suggesting this is great goal, but let's face it. It feels better to kill more than die, and ignoring that motivating factor only hurts our ability to provide incentive to have good behavior, which is about achieving objectives.
Hainan Resort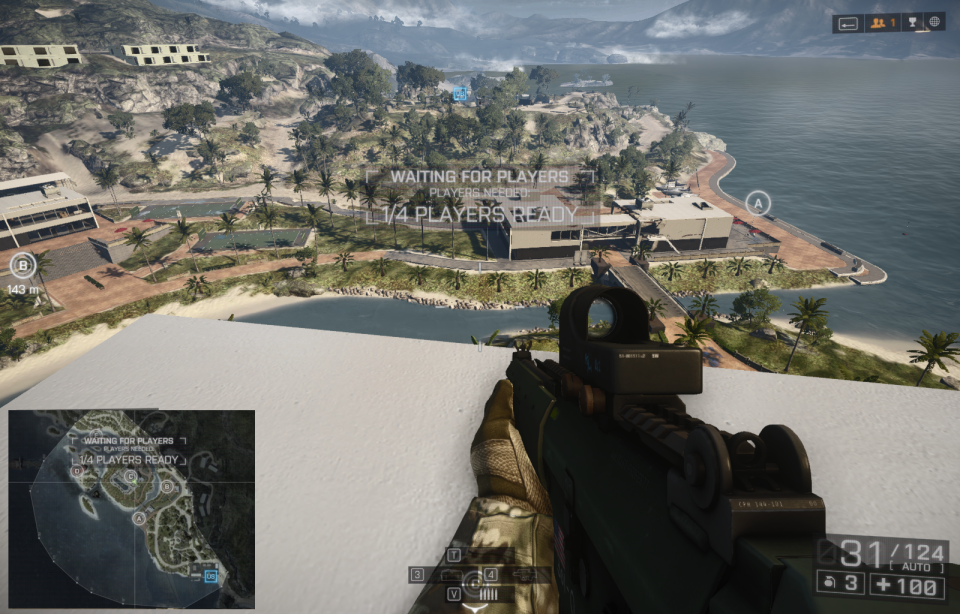 Here's an example that I think is actually more typical. This roof is accessible by chopper or elevator. It's a pretty good spot for getting kills, but what it's NOT great at is controlling the map. C, which is right under you, can easily be captured from under you by a squad in a building or even armor rolling in. You don't have many angles to stop that. You can parachute down, but that's a quick way to die. Likewise, your reach into other flags is not nearly enough to provide true support for an attacking or defending squad. It's a nice place that's protected, but it's not a place that helps the team a lot for a full squad to remain on. It does have some tactical uses: it's a great place for a recon to laser spot armor and aircraft, and it's a great spot for an engineer with a stinger to help his team achieve air supperiority. But it's a situational place that doesn't lend itself to a full squad hanging out for a long time. And even though it's a cool place to snipe from, I don't think you're doing a lot of good up there. Maybe Lancer can shed some light on that.
Lots of roofs in BF4 are like this one too. You get up high, but the angles just aren't there to actually help other flags. It's not a bad place to move through, but you need to think about it:
Is this helping my team win?
There are many other types of roofs too. For example, in Zavod, both C and D have roofs above them. But I think most understand these roofs are more situational because it's not easy to camp up there for long periods of time, and there's a series of underground tunnels that prevent the roofs from doing a lot of good.
Conclusion
My point isn't about roofs, though. That's just an illustration of how Squad Leaders need to start (to the extent they are not already) thinking about whether their actions are helping their team win. Just getting kills is
not
good enough.
As a squad leader, expect to win the game through your actions. As a squad member, expect your squad leader to make choices that help your team win. As a CO, help your squads make decisions that help your team win.
A quick note about winning. This isn't about winning at all costs. This isn't about not losing gracefully – losing is part of winning. This is about working toward a common goal with the rest of your team, and in the case of conquest, that is to make the other team lose their tickets faster than your team does.