NOTE: I realize this should be in the Tactics sub forums but I would plead to the admins/moderators to leave this thread here to teach players some basic fundamental of Defense in Battlefield, and specifically BC2.
If you learn anything from competitve play its that POSITION is everything. Owning key flags are not enough, you have to keep them. Want to stay versitile to the many forms of MCOM attacks - be in the right position.
Some of my credentials:
Played in 3 BFCL seasons -2142
Played in 3 or more TWL seasons/ladders -2142
Currently playing in TWL Ladder BC2 Current Rank 6th, Highest 3rd, total teams - over a 100
Currently playing in TWL BC2 season 3 wins 1 loss
Captain of the TG-21st
Now for a lesson on correct positions in BC2
Defense seems to elude alot of players here.NOTE: if this is posted anywhere else I apologize in advance but this was alot of work. I put together this short, j/k, Slide show below to illustrate why I look at my minimap with disgust so often. Then I get to read in-game chat and I get so ill I leave our server. Please keep posts here about questions for my Strats and not to shot holes or throw down what ifs. These positions for rush will counter Sneaks/ C4/ Rockets/ Carls and the good old regular Mcom arm. These positions on Conquest will ensure your victory. It is these positions that you should fight for. A friendly note: this is a basic strat, obvi different situations call for different measures, but if you own all positions as indicated then you should win regardless of skill. Now a few fun facts for our not so informed members.
1. It is up to you to check your minimap and know where the holes in your defense are. Its then up to you to move into the correct position (where the team seems weakest)
2. If someones in your sweet position, find another one, crowding does your team no good (bottleneck the exception
3. Keep MCOMs physically in your sight, even if you must rotate your view around every few seconds
4. While defending or capping a flag in conquest if you are not on cap radius (you dont here clicks and there is no small bars above minimap - you are out of position
5. While defending an MCOM with a rifle dont be a rifles distance from the MCOM, be in shotgun range of the MCOM and shoot a rifles distance at incoming targets.
A few fundamentals to point out
Rush
- If both MCOMs are not collaspible defend from on Mcom/rear
- If one MCOMs is collaspible focus all defense on other (non - collaspible)
- If both MCOMs are collaspible or rocketable (you know what i mean you Carls) Defend from the Front/on MCOM
Conquest
- If you are attacking or defending a flag (the only two things you should be doing) you must be on the cap radius, if you do not see the cap bar above your minimap please slightly adjust your position till you do (this does not mean stand in the open)
Below are three maps. 2 conquest and 1 rush. I choose Port Valdez for Rush because it offers a few unique senarious so you can see how different positions hold different value based on your MCOM setup. The two conquest maps are the only two types BC2 has Inline and triangle. I picked White Pass and Leguna Presa as examples but this should give everyone an idea, regardless of the map, of where you should and should not be.
Conquest - White Pass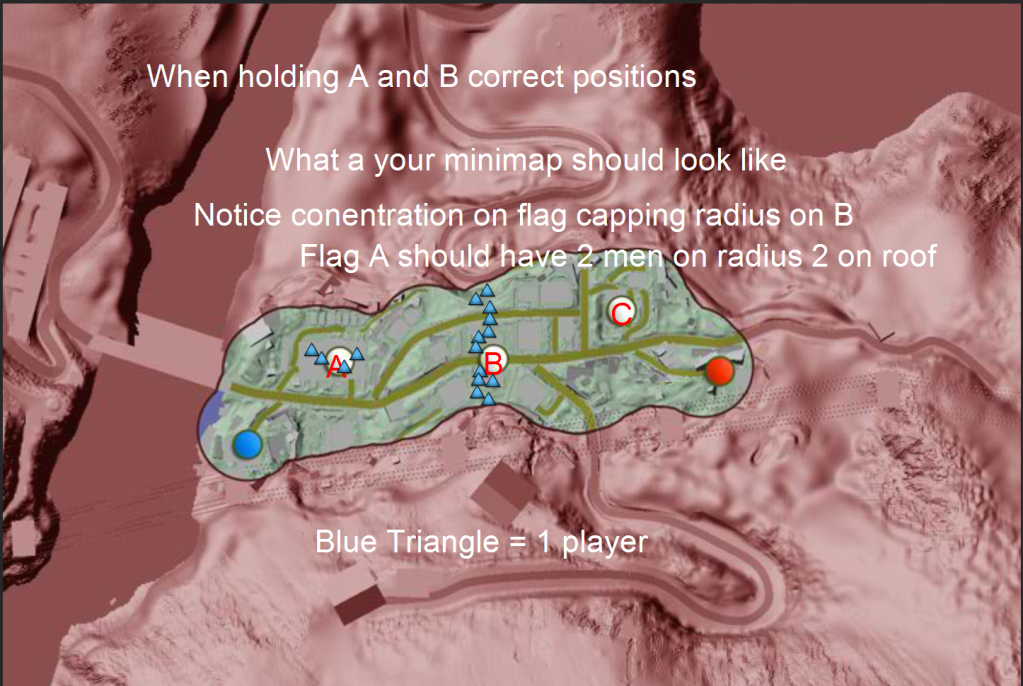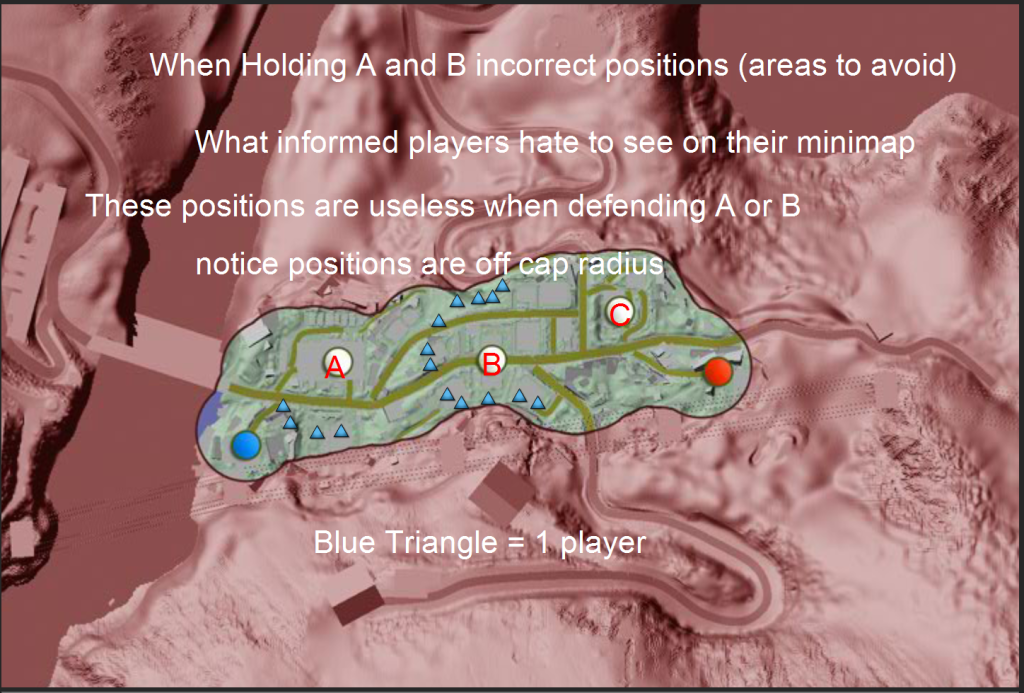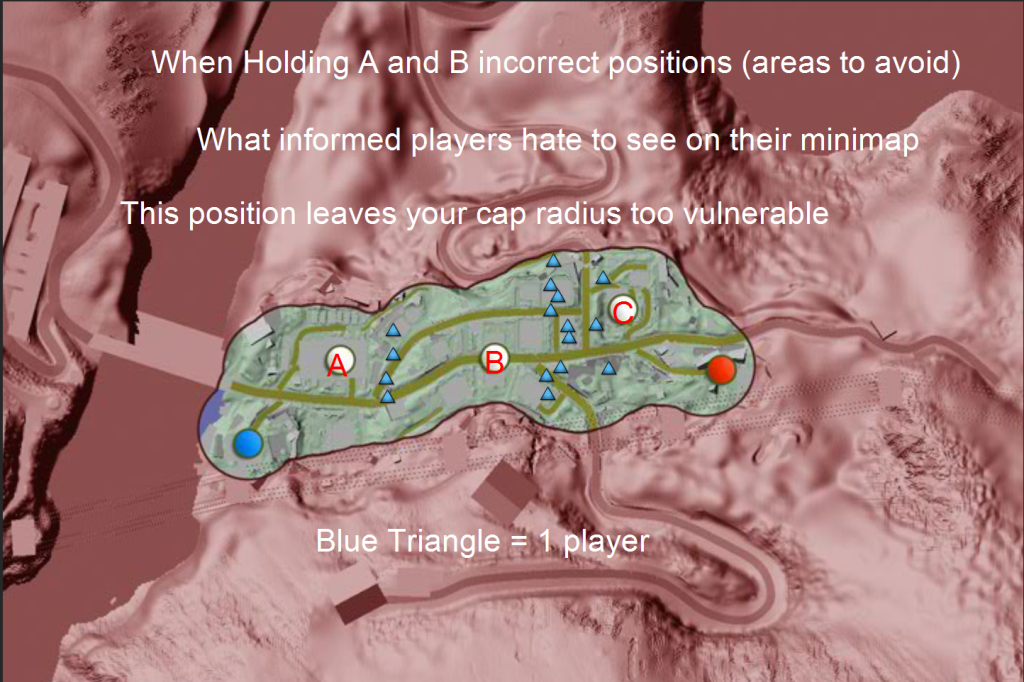 Rush - Port Valdez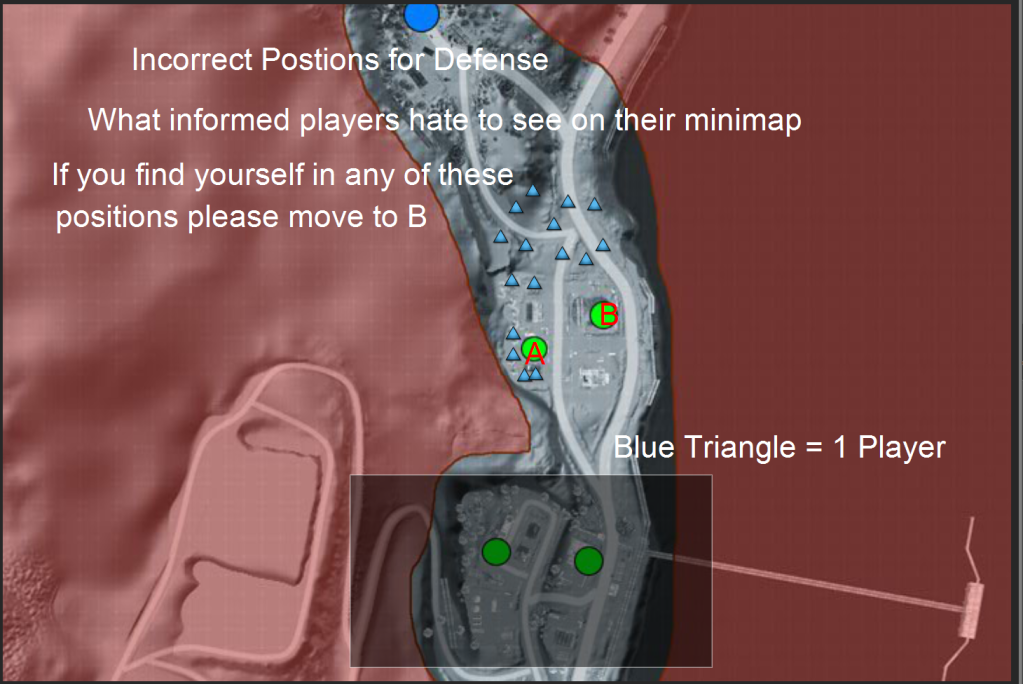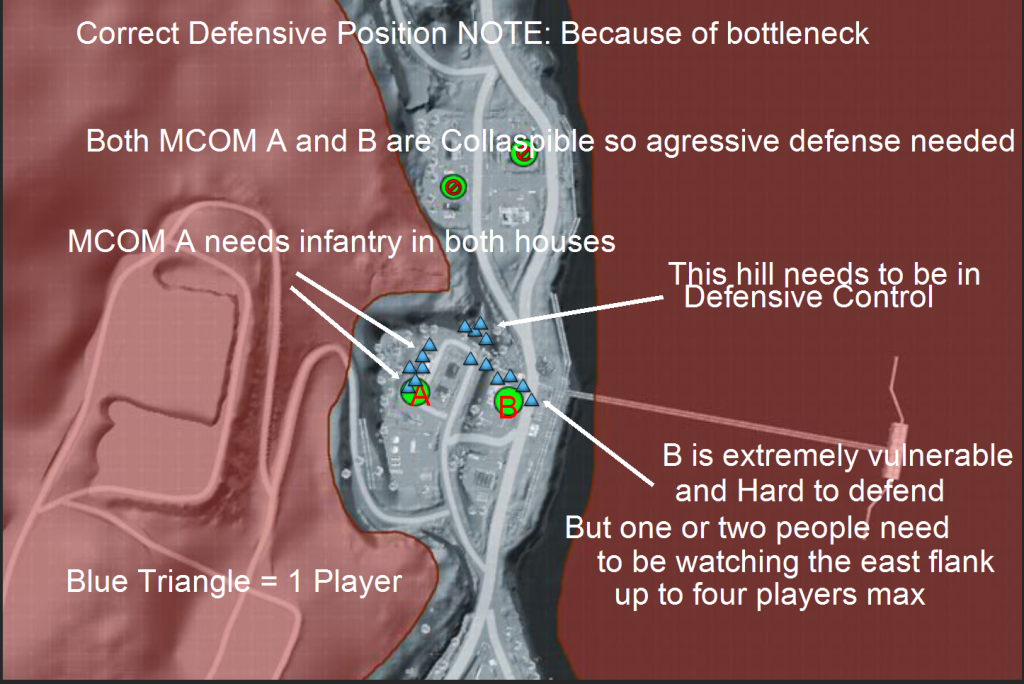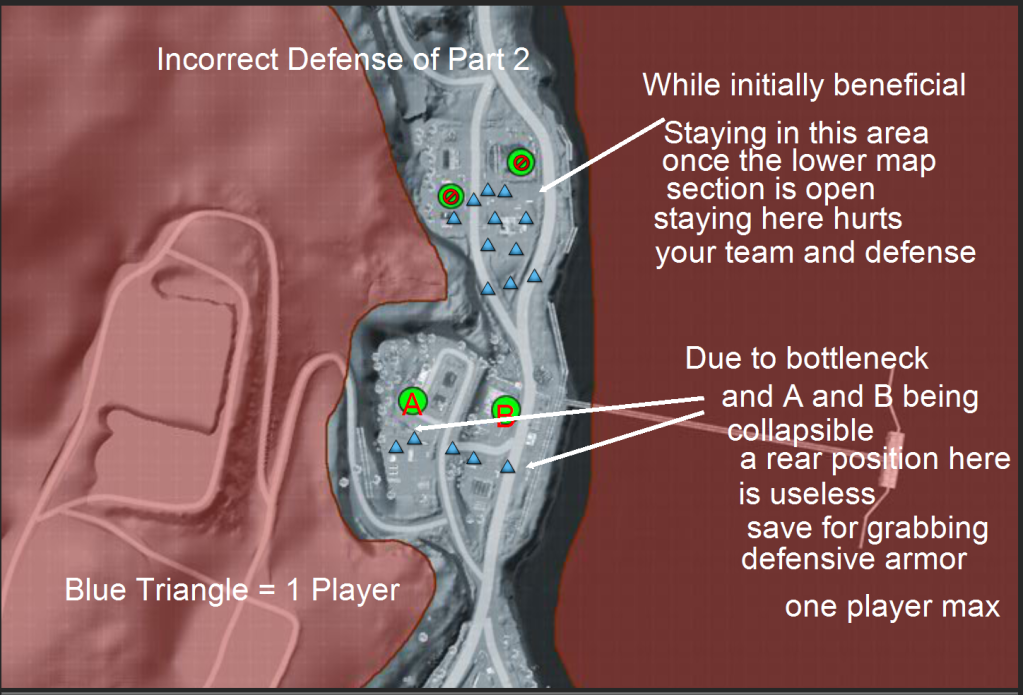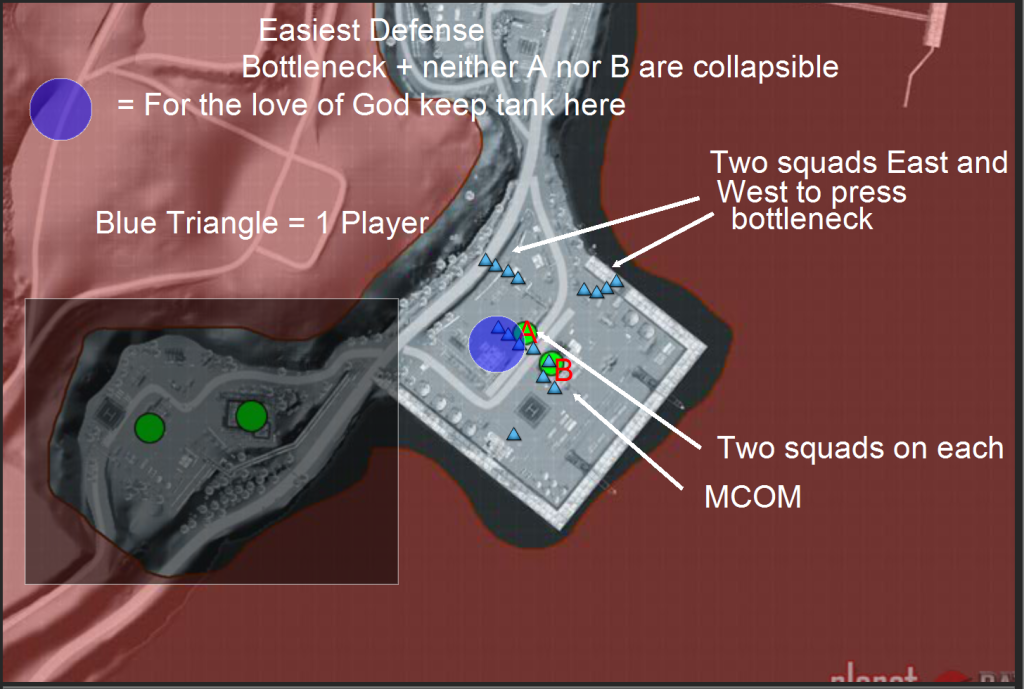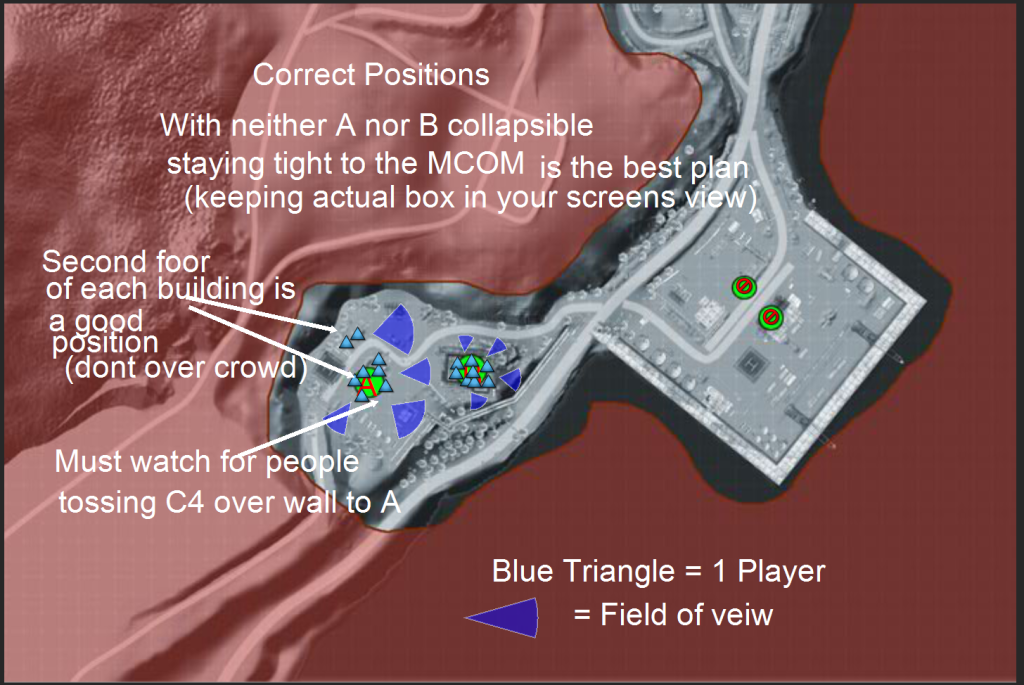 Conquest - Laguna Presa