So it seems T's know exactly what they shoudl do on this map. Its pretty simple, find the VIP and kill him, and if that doesnt happen in the first minute, fall back enough so you can hold the VIP rescue zone.
Ct's seem to always mess things up on this map by either not sticking with the VIP or just not knowing where they are or where they are trying to go.
I LOVE this map, you must be very tactical and everyone must know exactly what they are doing on CT team to win.
There are only
3 routes
which CT's can ineviatbly take.
Ramps

Long Hall

Elevator

Please begin refering to these places considering they are the ONLY 3 ways to the surface for the CTs.
Also another point of high interest is what I call the pool room.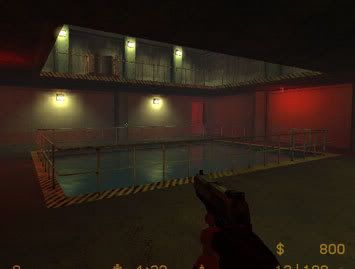 Soon I will post 3 seperate topics, each once outlining how to move through each location toward the VIP rescue zone and where to expect Terrosits.
*VERY IMPORTANT NOTE*
The Terrosits have 2 spawn points that they can potentially spawn at, they are very very very close to the CT's spawn point. They literally spawn underneath the CTs, but not every round.
Their spawn point looks like this